Calley says, weather permitting, conditioning will be a priority after scrimmage with Pine Bluff
EDITOR'S NOTE: Because the look back at each day in Bryant athletic history has been so favorably received during the time when there was no sports during the COVID-19 shutdown, BryantDaily.com will continueposting past stories of Bryant athletics either posted on BryantDaily.com (from 2009 to the present) or published in the Bryant Times (from 1998 to 2008).
By Rob Patrick
Photos by Rick Nation
After his team finished its preseason scrimmage against the Pine Bluff Zebras on Monday night, Bryant Hornets head football coach Paul Calley made it clear that he would have a better handle on how his team played after he'd viewed the video. But there was one thing he was certain about:
His team needs some conditioning. And with temperatures around 90 degrees the rest of the week instead of 100-plus, that will be a priority.[more]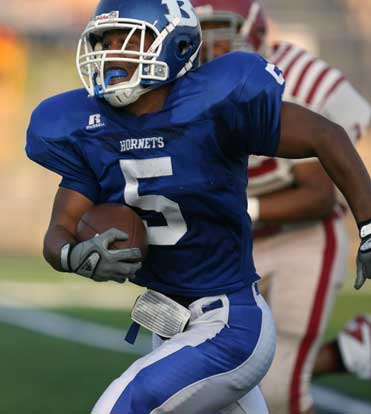 "We've been scared of the heat," Calley noted. "We haven't pushed the kids in practice and you saw it tonight. I had said the third series but it was the second series. We were sucking wind on the second series.
"We've definitely got to pick up the pace in practice," he continued. "We're going to condition (Tuesday) and watch film then Wednesday, we're going to have to get out here and get after it again. The practice tempo is going to be much more upbeat if the heat will cooperate."
It looked as though there will be three things the Hornets can count on. They'll be able to run the ball effectively, their special teams will be one of the strengths of the team and the defense will continue to bend but not break.The Hornets produced the only points of the first-team scrimmage. Junior running back Karon Dismuke bolted 41 yards for a touchdown in the first quarter and, late in the half, sophomore quarterback Hayden Lessenberry found Dillon Winfrey on a fourth-down touchdown pass covering 19 yards.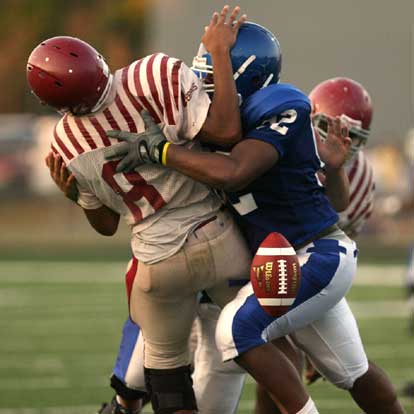 In a subsequent portion of the scrimmage that pitted each team's second group then each team's third group, the Hornets added two more scores. Sophomore quarterback Austin Powell tossed a short pass to senior Caleb Garrett, who turned it into a 39-yard scoring play. Later, junior running back Charles Henson galloped 56 yards for a touchdown.
With scouts from five different schools on hand, neither team rolled out the full playbook as they started the scrimmage with two regulation quarters including the kicking game. Pine Bluff opened the game with a strong kickoff return and proceeded to drive from the Bryant 48 to the 23. On first down there, however, defensive end James Kidd and tackle Matt Jones made a stop for a loss. The next play, Kidd again made a stop for a yard setback. A third-down pass fell incomplete thanks in part to pressure put on the quarterback by middle linebacker Collin Chapdelaine.
Starting from its own 30, the Hornets were unable to pick up a first down despite a 7-yard pass completion from Lessenberry to tight end Cody Elmore.
Tanner Tolbert came on and boomed a 55-yard punt to turn the field over.
Pine Bluff picked up a pair of first downs but a fumble at their own 41 was recovered by Bryant's Cortez Williams and, on the next play, Dismuke set sail.
Junior Jace Denker, returning for placements after a solid season as a sophomore, drilled the extra point.
Bryant's Dylan Blasi nearly picked off a pass on the subsequent possession for Pine Bluff and the two teams began to trade punts. Early in the second quarter, Winfrey returned a Zebra punt 44 yards.
But the Hornets coaches had the officials move the ball back to the 35 for the offensive series and Bryant marched to its second score. The drive was highlighted by the running of tailbacks Stephen Clark and Jalen Bell behind the Hornets' veteran offensive line. Lessenberry and Winfrey capped off the drive with the scoring pass.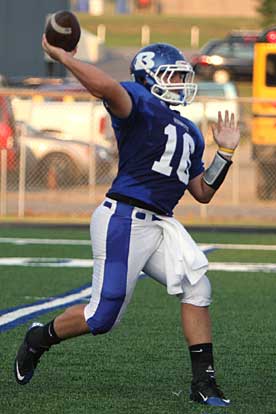 Bryant defensive tackle Josh Hampton, a returning all-State performer, proved difficult for Pine Bluff to block much of the night. He finished an impressive performance with a bit hit on the Pine Bluff quarterback that caused a fumble as the defense collected its second turnover.
"I told them to come out tonight and give me effort, execute and have fun," Calley said. "I think we did two of the three. I don't think we executed very well at times. Offensively, we didn't run but four plays in the first quarter. We were going to try to throw the ball a little bit but then we figured we better try to get the ball in the end zone so we went back to the running game."
The Hornets picked up 84 yards on 14 rushes in the half. Lessenberry was 2 of 9 passing for 26 yards and one interception.
"I think our passing game's going to come around," Calley commented. "We were barely missing people. We were just a little bit off on the timing, had some protection breakdowns and dropped some passes that should've been caught. Hayden was a little slow on his drop and he was dropping the ball down on his release. He hadn't been doing that. I don't know if it was nerves or what. But we'll get it corrected. He's got a strong arm and sometimes he can get away with it."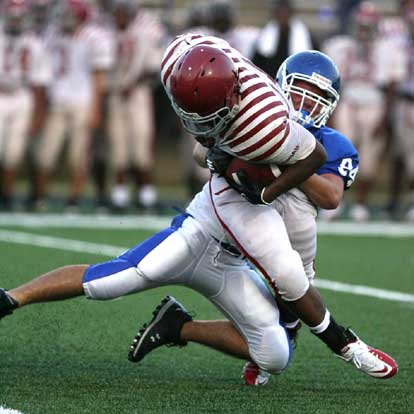 Bryant's senior quarterback Blake Davidson was held out as he continues to mend a sore shoulder.
"Overall, I was pleased with the performance," Calley concluded. "The flow of the game didn't go like I'm used to, not like I like for it to. It was just the ground game. (Pine Bluff was) controlling the ball, running the option. They had the fullback established and we couldn't stop him. They were getting 3, 4, 5 yards every time they needed it. Then, we get them in long-yardage situations and we give up third and 14 or 15 a couple of times. It's because we were tired."
Defensive coordinator Steve Griffith added, "I thought we moved to the football fairly well. It's the first time, really, we've had live tackling so we expected to have a few missed tackles which we did. But we also had some pretty hard hits.
"We're going to look at the film (Tuesday) and see what kind of technique adjustments we need to make, evaluate things from there," Griffith added. "Hopefully, we'll make a big improvement between now and Benton."
The Hornets open the season as usual against the rival Panthers in the 11th Salt Bowl at War Memorial Stadium in Little Rock on Friday, Sept. 3, at 7:30 p.m.
In the second half of Monday's scrimmage, the Hornets used eight different ball carriers to accumulate 188 yards rushing on 18 plays. Along with Bell, Dismuke and Henson, Lance Smith, Jacob Powell, Kyler Boyle and Lane Ricardo had some nice runs.
Austin Powell completed both of his passes to Garrett for 49 yards. Boyle attempted two throws and both were on the mark but dropped.
Defensively, Seth Alkire, Aaron Bell and Derek Faulkner made big stops. Kody Perlson and Parker Dunn combined on a loss of 10. Caleb Thomas broke up a pass and Logan Howell finished Pine Bluff's last possession with a sack.