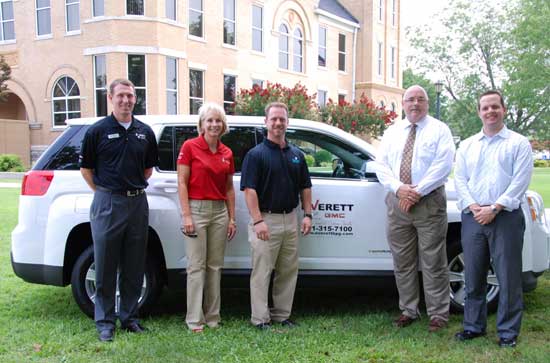 BENTON — The Saline Memorial Health Foundation (SMH) and the[more] Benton Area Chamber of Commerce are kicking off the inaugural Glitz and Garland shopping event by giving away a new car. The SMH Health Foundation and the Chamber along with Everett Buick GMC, announced the car give-away on Thursday, July 7 at the Saline County Courthouse.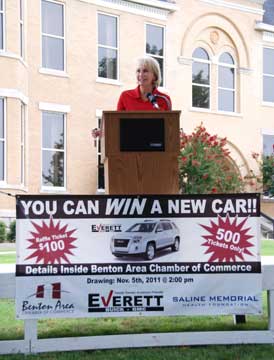 Many community members were present to watch Susie Everett hand over the keys to a new 2011 GMC Terrain as part of the fundraising efforts for Glitz and Garland and ultimately the SMH Health Foundation and the Benton Chamber of Commerce. Starting today, community members will be able to purchase $100 raffle tickets giving them a chance to win the new car. Only 500 tickets will be sold.
"We're proud to be a part of this event that promotes Benton and our local businesses," said Susie Everett. "I've been a patient at Saline Memorial and know the personalized care they provide. It was an easy decision to support this event because of the two great organizations that will benefit from it."
Glitz and Garland, the inaugural holiday shopping extravaganza, is set for Nov. 4-5 at Holland Chapel Family Life Center in Benton. The event will feature merchants selling such gift items as gourmet food, home and holiday items, jewelry, clothing, children's items and more. In addition to the shopping, participants can enjoy entertainment and pictures with Santa Claus.
"On Nov. 4, 10 lucky names will be drawn," explained Jerry Beaty, event Co-Chair. "These finalists will be notified. On November 5, at 2:00 pm, at Glitz & Garland, these finalists will be given a key and will attempt to start the car. One lucky winner will win a brand new car."
"The Saline Memorial Health Foundation is excited to be a part of bringing this new event to Saline County," said Matt Brumley, SMH Foundation Director. "Everett continues to show tireless dedication to this community and we're thankful for their continued efforts in supporting healthcare and local businesses."
All proceeds from ticket sales and from the event benefit the SMH Health Foundation and the Benton Area Chamber of Commerce. Tickets can be purchased at the Benton Area Chamber of Commerce or Saline Memorial Hospital.
"Even if you buy a raffle ticket and don't win the car," said Everett, "you're still winning because you're contributing to the hospital and local businesses."
For more information on Glitz and Garland or the car give-away, visit www.bentonchamber.com.