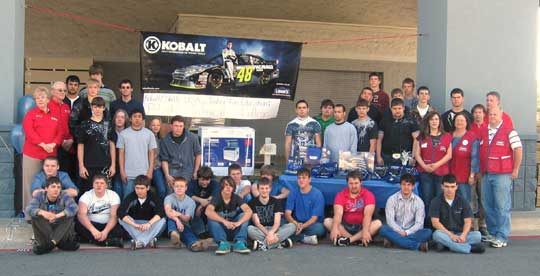 Members of the morning auto tech and collision repair classes at Pulaski Tech's Saline County Career Center along with director Mary Jane Dove and instructors Paul Ames, the auto tech teacher; Matt Magby, collision teacher; and substitute David Hensley joined Marie Duke, commercial sales; Carol Felkins, commercial sales; and manager Ricky Dyson of Lowe's for Thursday morning's presentation.
BAUXITE — As Part of Lowe's National "Toolbox for Education" Program Lowe's and Kobalt Tools in partnership with SkillsUSA are helping the next generation of trade professionals develop their skills at the Pulaski Technical College Saline County Career Center through their Toolbox for Education program.
Lowe's donated approximately $1,100 worth of Kobalt tools to the school as part of the national program, which will total about $450,000 to 400 Skills USA automotive service technology programs across the nation for use in their classrooms. Saline County Career Center is one of only 400 educational institutions in the nation to receive this donation.[more]
Representatives from the Saline County Career Center, Kobalt Tools, and Lowe's were on hand at the Bryant Lowe's location on Friday, April 9, for a formal presentation. Lowe's is located at 2330 North Reynolds Road in Bryant.
"This is a wonderful example of how industry works to partner with education, for the betterment of the technical program and the success of my students," said Dr. Mary Jane Dove, director of the Saline County Career Center. "Skills USA has benefited my students by providing opportunities for skills and leadership training that they don't get anywhere else. Lowe's and Kobalt Tools support reinforces what we are teaching in the classroom and shows the value of education-industry partnerships.
"It is a great surprise and honor to be chosen as one of the 400 schools nationwide to receive these tools," Dove added. "We work hard to maintain an adequate supply of tools, and these additional hand tools will augment our existing tool inventory and allow more students to participate at once in the hands-on process."
The national program kicked off in March at the Lowe's of Edgewood in Atlanta, where four-time reigning NASCAR Sprint Cup Series champion Jimmie Johnson personally delivered the first sets of tools to students from Jonesboro High School. He made the visit to the Lowe's store just prior to the March 7 Kobalt Tools 500 NASCAR Sprint Cup Series race.
"By working with Kobalt Tools and Skills USA to provide tools to these students, Lowe's is able to help prepare the future of America's skilled workforce in their chosen career paths," said Larry D. Stone, chairman of the Lowe's Charitable and Educational Foundation. "With Kobalt tools in their toolbox and training from their schools and Skills USA, students will be better prepared for success when they enter the workforce."
The Saline County Career Center, operated by Pulaski Technical College on the former campus of Alcoa Reynolds in Bauxite, offers secondary career and technical education programs for high school students in Saline County. Programs of study includes: Automotive Technology, Automotive Collision Repair, Cosmetology, and Medical Professions education.
Pulaski Technical College is a comprehensive, two-year college that serves the educational needs of central Arkansas through more than 50 occupational/technical degree and certificate programs, a university-transfer curriculum and specialized programs for business and industry.