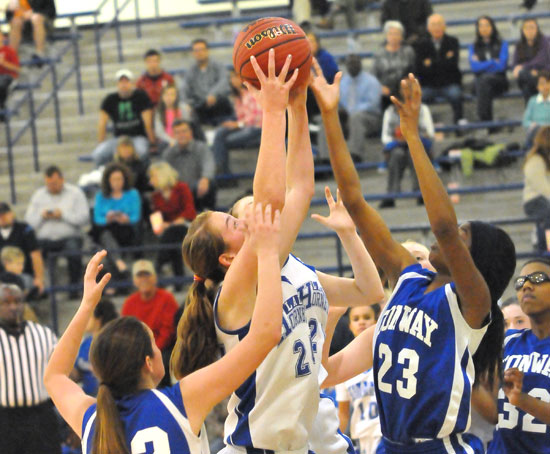 Photos by Kevin Nagle
Progress throughout a season is crucial for any athletic team. You want to be[more] better at the end that you started out. There are often growing pains along the way but, particularly in basketball when seasons conclude with championship tournaments, making progress and improvement is vital.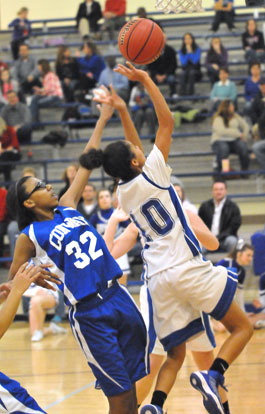 On Nov. 15, the Bryant Lady Hornets freshman team played the Conway White Lady Cats in the finals of the Bryant Invitational Tournament and it was a frustrating contest for the Lady Hornets. Conway White won the tourney title with a 31-16 win.
On Thursday, Nov. 29, the two teams met again in a regular-season non-conference contest at the Bryant Middle School gym. Though the Lady Hornets didn't make up the entire difference, there was obvious progress and Conway White eked out a 25-20 win.
"We played much better this time than we did against them in our tournament," acknowledged Lady Hornets coach Nathan Castaldi. "Defensively, we played really well. We used a triangle and two defense to try and hold down their top two scorers and it really worked. The last time we played them their best two players scored 23 points combined and last night they only scored 10. Britney Sahlmann and Anna Lowery did a really good job defensively on their scorers. By the end of the game both of Conway's top players were very frustrated because of those two girls' efforts."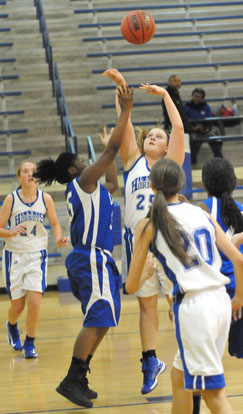 Bryant led the game 6-4 at the end of the first quarter. Conway White managed a 10-8 edge at the half before expanding the margin to 17-11 by the end of the third quarter.
Skylar Davis led Bryant with 11 points. Sahlmann added 7 and Anna Turpin 2.
"We just went through a long stretch from the second quarter through about three minutes left in the game, where we could not score," Castaldi said. "During that time, we got good shots, we just could not finish.
"With about three minutes left, we started to play with more urgency," he noted. "We did a much better job of attacking the basket and getting inside looks. We just have to play the whole game like that, not the last few minutes.
"I was very proud of our defensive effort," he emphasized. "We put that defense in this week and were able to execute it very well. We had a few mental lapses, but overall I was very happy."
The Lady Hornets travel to play Cabot South on Monday, Dec. 3.