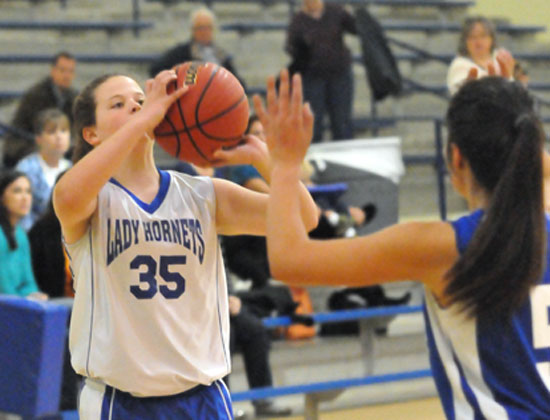 Photos by Kevin Nagle
The Bryant Blue Lady Hornets eighth grade team of Bethel Middle School had a[more] five-game winning streak stopped Thursday night when the Conway White Lady Cats eighth grade team put together a 10-4 run in the third quarter on the way to a 27-18 win at the Bryant Middle School gym.
The Lady Cats posted an 8-4 lead by the end of the first quarter and held a 13-9 edge at the half. But the third-quarter surge proved too much for Bryant Blue to overcome, making it 23-13 going into the final period.
Riley Hill led the Lady Hornets with 10 points and five rebounds. Kendal Rogers added 8 points.
"Conway gave us a couple of problems we hadn't faced and that was speed and size," said Lady Hornets coach Rhonda Hall. "We're hoping to bounce back and get back on the winning track in the tournament next week."
Bryant Blue, now 5-2, will play at the Wildcat Shootout and Episcopal Collegiate Academy in Little Rock on Tuesday at 4 p.m., and again on Wednesday at 4.