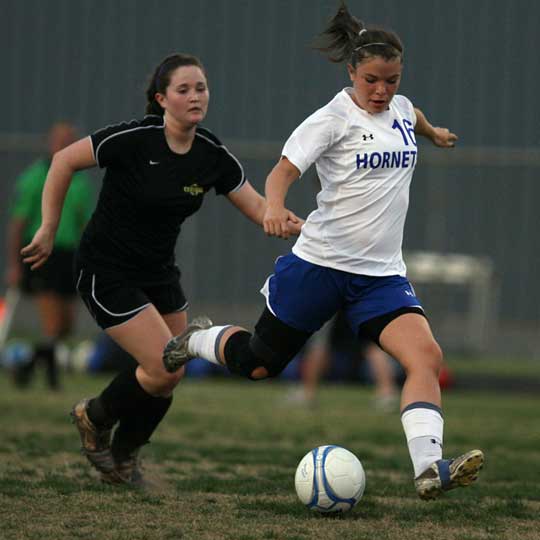 By Aaron Shuttleworth
The Bryant Lady Hornets left the field at Bryant Stadium on Tuesday night, feeling despirited and broken. But the girls shouldn't. In all of the games I have seen, this team I saw tonight was the best. The girls worked as a team, as a whole, one heartbeat. The scoreboard said they suffered a 2-1 loss in overtime, but the Lady Hornets did not lose.[more]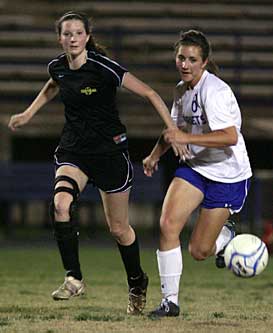 The Bryant girls stepped up. Every position was filled with the girl that could get the job done. Keeper Kaitlyn Miller had seven saves for the night. One of them was a penalty kick. At 27:50 in the second half, Miller made a save, lost the ball, scuffled back to it to save it again. That is nothing more then hard work and dedication.
Broken nose and all, London Abernathy was in every play she could be in. When Miller would get into trouble, she was there to bail her out. The same can be said for Sarenity Gomez who was able to save a couple of goals in the regulation time and one in overtime. Lauren Reed also had a save in overtime.
The middle of the field really picked it up in the second half. Kaite Moore, Lyndsay Brazil and Reed were part of that. Once again, Tarra Hendricks made here presence known on both offense and defense.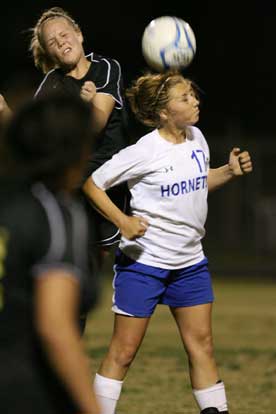 On the offensive side of the ball, Maggie Hart, Lexie Balisterri, Katie Moore and Shelby Gartrell kept pressure against the Lady Tigers all night.
At 33:13 in the first half, Erica Selig was awarded a free kick. She crossed it over the middle to find Gartrell inside the 6-yard box for a goal.
McKenzie Adams played like it was her last game, giving everything she had for all 80 minutes and the overtime.
At 8:39 in the second, the first goal against the Lady Hornets came as a shot to the upper right of the goal.
The dagger in the heart came with 1:26 left in the first overtime as the ball was shot from a Lady Tiger on a free kick. The ball ricocheted off of three players like a pinball game before it went into the net. No one could have foreseen where the ball was going to go next.
There are numerous things the Bryant girls can take from this game. If this same team can come out every night, the Lady Hornets, who are now 7-6 overall and 4-4 in conference play, will be tough to beat.
Come Thursday night, the Mount Saint Mary Belles will see a Bryant team that won't be the same one they saw on March 9.