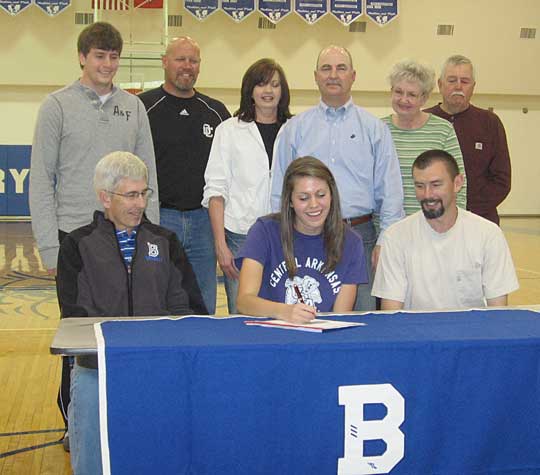 By Rob Patrick
When Jordan Chadwick was handed the baton for the third leg of the 4×400 meter relay at the Bryant's lone home track meet of the season on Thursday, March 18, she was 50 yards behind the Cabot Lady Panthers. But, as the defending 2009 Class 7A 400 meter champion, the Lady Hornets could not have had a better runner in that position.
And with the team championship of the meet on the line, Chadwick proceeded to make up the ground. The Lady Hornets earned a second-place finish in the event, passing Cabot not only in the race but in the team standings as a result.
It was a prime example, said Lady Hornets head coach Danny Westbrook, of the competitive nature Chadwick demonstrates regularly, a nature that has helped her land a scholarship to continue her track career and her education under scholarship at the University of Central Arkansas.
In a ceremony at the Bryant gym, Chadwick signed her NCAA Division I Letter of Intent with her family, coaches, teammates and friends on hand.[more]
"Everybody did just so good," Chadwick said of Thursday's meet. "It was awesome. Our distance girls, our 4×800 ended up winning then Morgan Seelinger scored like 30 (31) points which is amazing.
"The last race was a little nerve-wracking," she admitted. "Coming down to that, we're tied up. You've got to beat Cabot and they're like 50 meters ahead of me when I got the baton. I was feeling the pressure. I caught the girl, it was nice."
"Jordan Chadwick is one of the greatest competitors and hardest workers I have ever coached," Westbrook, the longtime Bryant coach, declared. "She has committed herself over the years to the hard rigors of track and cross country training and is seeing that hard work pay off through being awarded this scholarship at UCA. Her leadership and exemplary work ethic will be missed, but we wish her well in her future college career."
Chadwick's athletic scholarship will be combined with an academic scholarship. She's maintained a 4.0 grade-point average throughout high school and is a member of the National Honor Society and Champs. She's also a member of the Collide Student Leadership Team at First Southern Baptist Church in Bryant.
She plans to pursue a degree in biology, pre-med in college.
"I've just always been real competitive at everything," Chadwick said. "I like to win. I like to know what I have to do. I like to have a model. Like in the hurdles, you have a pattern. You take seven steps then it's like three, three, three all the way down."
Along with winning the 7A title in 2009 in the 400, Chadwick was runner-up at State in the 100 hurdles. She also won th 400 and finished second in the 100 hurdles at the 2009 7A-Central Conference meet. At the Meet of Champs, she placed third in the 400 and, this spring, she was the State runner-up in the Indoor 400 meters.
Named Arkansas All-State four times, she was a member of the 2009 7A-Central Conference cross country championship team as well.
As tall as she is, it's no real surprice she actually started her career in track in the high jump.
"But I wasn't that good at it," she allowed. "I just tried the hurdles and the 400."
Her success, she said, was a surprise, "I didn't expect it at all."
Asked which event she prefers, she replied with a laugh, "I'm better at the 400 but I like the 100 hurdles. They're easier, so I like doing those better."
Beyond getting the best financial package from UCA, Chadwick said the appeals of the school included, "The coach is really nice and I really like being closer to home so I can come back whenever I want to."
An indication of her athleticism, before settling on track, Chadwick played basketball up to her freshman year. She was also a member of the cheerleading squad.
"I felt like I was better at running," she acknowledged. "I'm more someone that likes to have — in track, I know exactly what I have to do to win. I like that a lot better."