By LANA CLIFTON
The Citizen's Police Academy met for two events in the past week.
On Saturday, Oct. 10, 16 of the class's students traveled to North Little Rock to a S.W.A.T. training facility to fire weapons. Sgt. Jenceson Payte spoke to the group about safety procedures before leaving Bryant.
After arriving at the range, the CPA participants were split into teams, rotated through four different ranges and were allowed to shoot four different firearms.[more]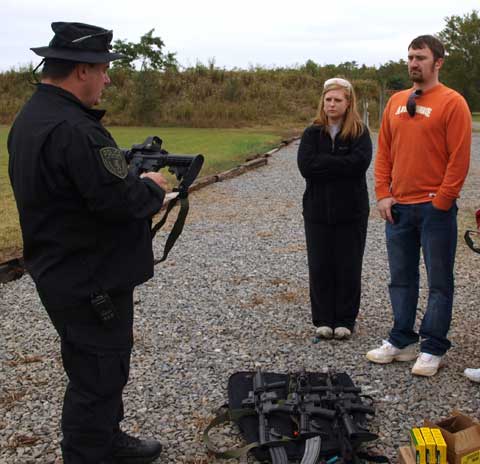 At one range, participants shot a 45 caliber Glock pistol. Under Payte's instruction, they shot 25 rounds from different distances and in specified manners, such as from the holster or with one hand only. He did this to allow them to experience a modified version of the actual course required for officers by the state annually. According to Payte, officers must shoot with accuracy of 80 percent or above, or they go immediately into remedial firearms training until they can. CPA participants each used a different target, and Payte scored them at the end of the day.
Next to the pistol range, Lt. Keith Bird assisted participants in shooting a 9 mm fully automatic rifle. Only one person shot this at a time, and they were closely supervised by Bird, who gave each person brief individual instruction on the weapon before they began firing.
On the other side of some dirt berms, Lt. J.W. Plouch, Team Commander of the Bryant Police Department's Emergency Response Team, introduced CPA students to the S.W.A.T. rifles used by the department. The 223 caliber M4 rifles shoot in three-round bursts and are a tactical version of an M16.
The last range was led by Sgt. Shawn Fullington. Using a small ATV, Fullington took each group to a tower. The participants climbed the ladder into the tower and were each allowed three shots from a prone position at a one-inch target 100 yards away. The .308 rifle they used is equipped for police sniper deployment.
Emergency Medical Technician Andy Goldthorpe, who works for Medflight and is a reserve officer for the Bryant Police Department, was on stand-by in case there were any injuries. Except for a couple of cuts on fingers, none were reported.
According to Payte, firearms training is one of the most important things the Police Department does. He said some officers may never have to draw a weapon, but if they do, they should be prepared.
In those situations, "There are no re-dos," said Payte.
He said other areas in which officers receive training are important also, but there is one difference.
"Firearms have a chance of ending someone's life," Payte explained.
For this reason, the Bryant Police Department does more range work with firearms than the state-required annual assessment. They shoot at least four times per year, and the 80 percent accuracy rule is strictly followed.
* * *
On Tuesday, Oct. 13, the CPA met to learn about the reality of domestic violence and the role the police department and other law enforcement agencies play in fighting it.
Det. Sgt. Alison Hoskins of the Saline County Sheriff's Department spoke to the group. She shared statistics and other information to help the group understand how large the problem is.
Hoskins defined domestic violence as, "Physical harm, bodily injury, assault, or the infliction of fear of imminent physical harm, bodily injury, or assault between family or household members; or any sexual conduct between family or household members whether minors or adults which constitutes a crime under the laws of this state."
Hoskins shared that a woman is being battered somewhere in the United States at least once every 15 seconds. She also said the FBI considers woman battering to be the most widespread and most underreported crime in America. In 2008, in Arkansas, 24 women were killed from domestic abuse.
Hoskins estimated that she and another officer work 30 to 40 cases of domestic violence in Saline County each month. According to Hoskins, the work does not end when they stop violence from continuing and take care of any wounded. She said, if the violence occurred recently, a crime scene must be secured and evidence gathered.
Hoskins detailed the many steps law enforcement officers must go through to make sure everything is done correctly. She also said, many times, the victims choose not to press charges and will reconcile with their batterers. According to Payte and Hoskins, in Arkansas, an officer can make an arrest based on what they see, if a crime has been committed, whether the victim presses charges or not. This is another reason evidence must be carefully collected and interviews must be conducted properly.
Hoskins also said an officer must be alert to dangers when responding to domestic violence calls. Payte agreed.
"Domestic calls are one of the most dangerous calls an officer can go on, because things are already heated," said Payte.
Hoskins agreed with this, but added sometimes the heated nature of the situation can lead to a victim or assailant talking without thinking, giving pertinent information to the case.
General domestic violence is a tough subject, and CPA participants often responded with gasps and sounds of dismay when viewing pictures or hearing statistics. These responses were even more pronounced when Hoskins began speaking on the topic of child abuse.
She said most of the calls she responded to for child abuse came from calls to the child abuse hotline. Others came from calls from school officials, law enforcement, and medical professionals. She said in all these cases, the health and welfare of the child take precedence over other concerns.
Hoskins said 80 percent of child abusers are known to the child, and children seldom tell about the abuse because they know and trust their abusers.
According to Hoskins, there are specific guidelines for interviewing children. Because children are so impressionable, interviewers must take care not to invite a certain response or ask leading questions.
Hoskins also went over what actions are considered to be child abuse in the state of Arkansas. For example, according to Hoskins, what most would consider a normal spanking that leaves no whelps or bruising would usually not be considered abuse, but hitting a child with a closed fist would be.
The Department of Human Services (DHS) must investigate all calls about abuse, but Hoskins said DHS tries to make certain there is true cause for a full investigation before separating any families.
"Their main goal is to keep families together," she said.
Hoskins and Payte also discussed the need to break the cycle of abuse. They both cited cases in which generations of women or children had been victims of abuse, so it became the norm for that family.
Hoskins is passionate about her work. She said she likes investigations and working crime scenes because she wants to help the victims.
"I want to make sure justice is done," said Hoskins.