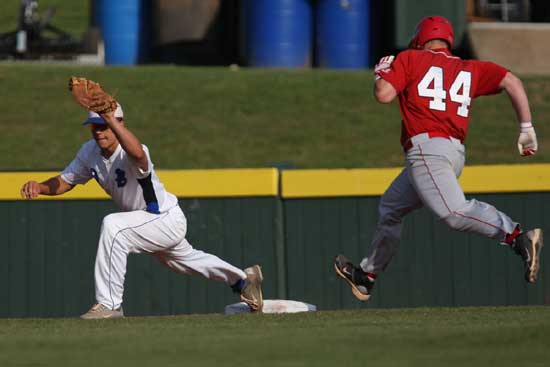 By Rob Patrick
Photos by Rick Nation
Sometimes the moment of truth in a baseball game comes way before the home team scores[more] 10 runs on seven hits in the bottom of the fourth inning. In fact, it may be true that if not for the early success, the big inning might not have developed.
Such was the case for the Bryant Hornets on Tuesday night when they returned to 7A/6A-Central Conference play after a stinging 13-8 non-league loss to Sheridan on Monday.
In the bottom of the first inning, the Hornets were gifted a run on a bases loaded walk to Hayden Lessenberry. But they still had the sacks jammed with two out and two strikes on Hayden Daniel. It was a clutch situation in a 1-0 game and Daniel, after fighting off one delivery, stroked an opposite field liner to right for a two-run single.
Just so, in the second, the Hornets had a runner at third and two out when Dylan Cross came through with a soft liner to right-center for another clutch hit that gave his team a 4-0 lead.
Likewise, when Cabot had pulled within 4-2 and had the bases loaded and one out, right-hander Jordan Taylor, on in relief of starter Tyler Nelson, got the Panthers' Cole Thomas to bounce to Nelson at short. He flipped to Ozzie Hurt who made a strong pivot and throw to complete a doubleplay that ended the Panthers' biggest threat and set the stage for the Hornets' game-busting uprising.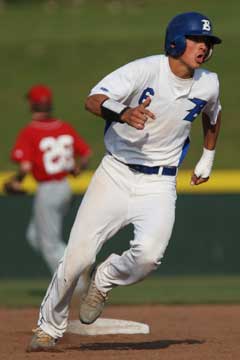 Bryant finished off the 14-2 win in five innings, hammering out 13 hits.
"They came alive tonight," said Hornets coach Kirk Bock of his team's bats. "Thirteen hits is probably the most we've had all year.
"We put a little more into this game because it's conference even though you shouldn't," he noted. "You know a game's a game. Sheridan did a great job swinging it (on Monday) but we almost matched their total."
The Hornets had been frustrated by Sheridan lefty Alec Pender so it was no small thing that when faced with Cabot lefty Ryan Logan, they scored those early runs.
"I was telling the kids, the first guy's a soft (throwing) lefty," Bock said, referencing Logan. "He's the kind of guy who's very difficult to hit. There were times we were out in front but I thought we did a good job of fighting it off and staying on line."
Josh Pultro led the Hornets with three hits. Nelson, Hurt and Daniel each had two.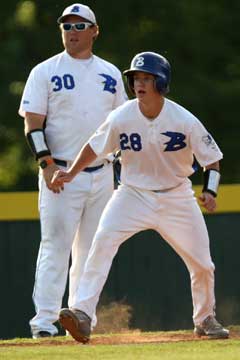 Bock was also pleased that the team, coming off back-to-back games in which they committed four errors in each, played flawless defense until a two-out throwing miscue in the final frame when the game had been decided.
"Really, it's kind of been the routine plays right at us that we need to make and we made them all today," the coach mentioned. "And our pitchers did a good enough job of keeping (the Cabot batters) off balance."
Nelson got the win with relief help from Taylor and freshman lefty Jason Hastings, who made his varsity debut and got the final two outs.
The Hornets' initial burst, which was keyed by Daniel's first hit, began with a single by Hurt with one out. Pultro ripped a single to left. With two out, Logan came within a strike of getting out of the jam but walked Taylor on a full count. Lessenberry worked his RBI pass to set the stage for Daniel.
Nelson worked around singles by Justin Goff and Tristan Bulice in the top of the second. In the home half, Nelson slapped a single to left, took second on a sacrifice bunt by Hurt, third on Pultro's grounder to short, setting up Cross.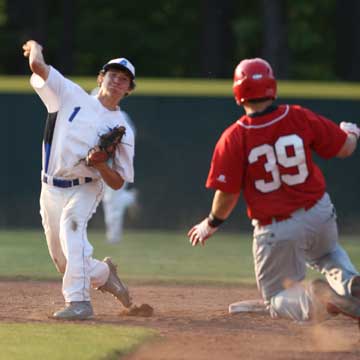 Cabot got on the board in the third when Thomas singled, stole second, took third on a passed ball and scored on a sacrifice fly to right by Bryson Morris.
The only walk Bryant pitchers allowed started the fourth inning. Casey Vaughan benefitted. Goff and Zachary Patterson followed with singles to load the bases.
Taylor came in to relieve Nelson (they had both worked an inning on Monday against Sheridan) and was greeted by Bulice, who pulled an RBI single to left to make it 4-2.
The senior right-hander rebounded by striking out Kason Kimbrell on three pitches. Against Thomas, the count went to 2-2 before he delivered the two-ball that sent it to the bottom of the fourth.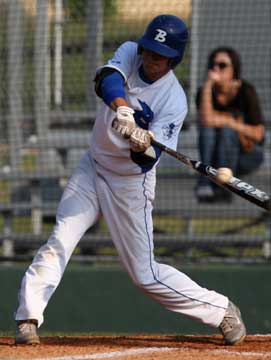 The big inning began in a big way. Nelson drilled a deep shot to right that hit off the base of the wall. He sprinted to third for a triple, just beating the relay. Hurt, trying to get down a safety squeeze bunt, wound up pushing it pass Logan for an RBI single.
Still, it was just 5-2 but Logan made an errant pickoff throw to first and Hurt hustled all the way to third. He scored from there on the first of Pultro's two doubles in the inning. After Cross was hit by a pitch, Taylor bounced into a force. With runners at the corners, Lessenberry plugged the gap in left-center to drive in Pultro and courtesy runner Drew Tipton.
That brought an end to Logan's moundwork. He gave way to Patterson who faced Daniel first. Again, with two strikes, Daniel came through with an opposite-field single to bring home courtesy runner Chase Tucker.
Daniel stole second and went to third on a wild pitch as Trevor Ezell walked. Ezell stole second and, as Tyler Green was drawing a free pass, a wild pitch allowed Daniel to score. Ezell went to third and, after having walked, Green swiped second, drawing a wild throw that allowed Ezell to score and Green to reach third.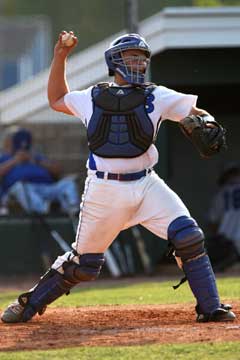 A walk to Nelson put runners at first and third for Hurt, who came through with a safety squeeze. Patterson fielded the ball but his only play was to first as Green raced home to make it 12-2.
Pultro's second RBI double of the inning followed and when Wesley Akers laced a single to center it was 14-2.
Taylor finished his work on the mound with a strikeout to start the fifth then Hastings came in and retired the next batter on strikes. After T.C. Carter reached on the error, Hastings got Vaughan to pop out to Hurt, just beyond the infield to bring the game to an end.
The game marked the end of the first half of the conference schedule. The Hornets improved to 16-4 overall and 5-2 in league play going into Friday's trip to North Little Rock. Cabot, which has now dropped all seven of its conference games, hosts Van Buren.
BRYANT 14, CABOT 2
Panthers ab r h bi Hornets ab r h bi
Vinson, 2b 3 0 0 0 Nelson, p-ss-1b 3 2 2 0
Morris, cf 2 0 0 1 Tipton, cr 0 1 0 0
Carter, c 3 0 0 0 Hurt, 2b 2 2 2 2
Vaughan, rf-1b 2 1 0 0 Pultro, cf-1b-rf 4 3 3 2
Goff, 3b 2 0 2 0 Cross, 1b 2 0 1 1
Patterson, 1b-p 2 0 1 0 Jones, rf 0 0 0 0
Bell, cr 0 0 0 0 Akers, ph 1 0 1 1
Kaufman, p 0 0 0 0 Tucker, rf 0 0 0 0
Bulice, dh 2 0 2 1 Hastings, p 0 0 0 0
Kimbrell, lf 2 0 0 0 Taylor, 3b-p 3 1 1 0
Thomas, ss 2 1 1 0 Tipton, cr 0 1 0 0
Logan, p 0 0 0 0 Lessenberry, c 2 0 1 3
Burnett, rf 0 0 0 0 Tucker, cr 0 1 0 0
Daniel, rf-cf 3 1 2 3
Ezell, ss-3b 1 1 0 0
Green, lf 2 1 0 0
Totals 20 2 6 2 Totals 23 14 13 12
E—Logan, Carter, Taylor. DP—Bryant 1. LOB—Cabot 5, Bryant 6. 2B—Pultro 2, Lessenberry. 3B—Nelson. SB—Thomas, Daniel, Ezell, Green. S—Hurt 2. SF—Morris.
Cabot 001 10 — 2
BRYANT 310 (10)x — 14
Pitching ip r er h bb so
Cabot
Logan (L) 3.1 9 9 10 2 0
Patterson 0.1 5 5 3 3 0
Kaufman 0.1 0 0 0 0 0
BRYANT
Nelson (W) 3 2 1 5 1 2
Taylor 1.1 0 0 1 0 2
Hastings 0.2 0 0 0 0 1
HBP—Ezell, Cross (by Logan). WP—Logan, Patterson 3. PB—Lessenberry.