For more photos of this event by Kevin Nagle, go here
Abby Gentry and Natalie Edmonson converted key free throws down the stretch to help the Bryant Blue Lady Hornets eighth grade team of Bethel Middle School turn a 21-21 game into a 27-22 victory over the rival Bryant White Lady Hornets eighth grade team of Bryant Middle School at the Bethel gym on Thursday.
Edmonson finished with a game-high 12 points and Gentry added 8 for Bryant Blue. Mary Beth James pitched in with 5 points and Emileigh Muse 2.
Haya Winfield led Bryant White with 8 points. Kylee Fleharty scored 5 and Jayla Knight 4. Lauren Lain and Lyniyae Johnson finished with 2 each and Brooklyn Welch hit a free throw.
Free-throw shooting was big. Bryant Blue was 13 of 25 at the line and Bryant White converted just 10 of 30.
"It became a free-throw game," said Bryant White coach Ben Perry. "Foul trouble and free throws.
"We found ourselves in deep foul trouble early in the second quarter and had to sub deep into the bench in the second and fourth quarters."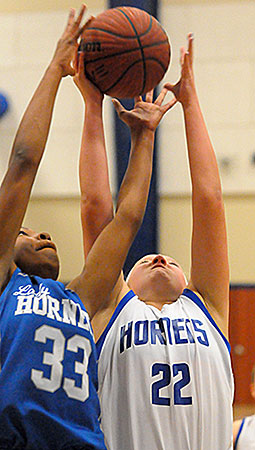 Bryant White held a 7-6 edge at the end of the first quarter, but Bryant Blue surged in the second quarter and took a 13-10 lead at the half. Bethel was up 18-14 going into the fourth quarter before Bryant White rallied to tie it.
"Three of our starters were in foul trouble early in the second quarter and had to sit until the second half," Perry related. "Our defense was very aggressive, and we were able to control the boards for the most part."
According to Perry, his team finished with a 35-21 advantage on the boards.
"We just couldn't get shots to fall," he said. "Our defense denied shots but also caused several fouls on the floor, which resulted in free-throw opportunities for Bethel."
Bryant Blue led by 2 with 1:30 left.
"We went for the steal early and if we didn't get them, we fouled to get Bethel in a 1-and-1 situation," Perry added. "Their free throws fell, and we went a little cold and did not execute.
"The game was a moral victory for our girls because of the score of the same game last year," he noted. "Our girls have worked and improved so much that we truly believe we can win any game we are in. I'm very proud of the girls and the way they fought hard. We look forward to a rematch at our place in January."
The win evened the Bryant Blue record at 1-1 going into a trip to White Hall on Tuesday, Nov. 27. Bryant White is also 1-1 going into a game at Benton that same night.