For more photos of this event by Kevin Nagle, go here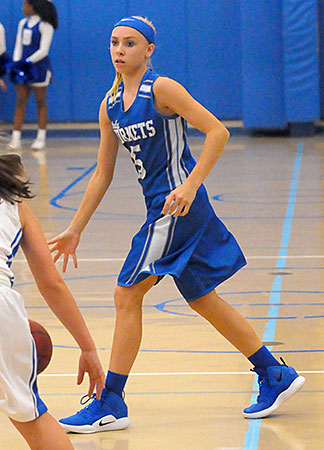 Brilynn Findey scored 15 points and the Bryant White Lady Hornets seventh-grade team of Bryant Middle School played stingy defense in a 28-9 win over the Bryant Blue Lady Hornets of Bethel Middle School on Thursday at the Bethel gym.
Camille Calhoun and Emeril Jones each had 4 points, Kristen Reese 3 and Arion Pegram 2 for Bryant White.
Jadyn Miller led Bryant Blue with 5 points. Jasmine Ellis and Savannah Spradlin added 2 apece.
Bryant White led 8-1 early and 17-3 at the half. It was 23-7 going into the third quarter.
"We played a very good defensive game," said Bryant White coach Ben Perry. "The girls came out of the locker room fired up.
"We were able to get valuable playing time for the team," he added. "I was happy with how we successfully ran our inbounds plays and ran some good motion offense. I was also proud with how we stayed with our man on defense.
"We still have some fundamental skills to work on but overall I was pleased," Perry said. "We shot 50 percent from the line as well."
Bryant White will play next at Benton on Tuesday, Nov. 27. Bryant Blue travels to White Hall on that date.