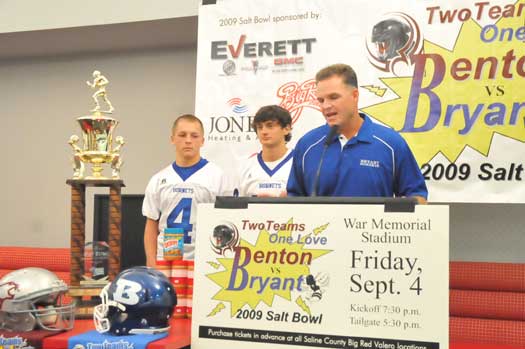 LITTLE ROCK — Details of the festivities in conjunction with the 2009 Salt Bowl were mapped out by State Senator Shane Broadway in a news conference held Tuesday, Aug. 11, at War Memorial Stadium, the site of the annual Bryant-Benton football game. This year's game is set for Friday, Sept. 4, at 7:30 p.m.
Bryant coach Paul Calley and seniors Logan Garland and Jimi Easterling spoke as did new Benton head coach Steve Quinn and a pair of his seniors Lee Richardson and Drew McCurry.
Here are the comments from the players and coaches:[more]
Calley started by referring to last year's game which was marred by the remnants of Hurricane Gustav, making it what Broadway called "The Gustav Bowl."
Calley: "I would like to start my segment with a question: Can we get our heads together today and come up with an alternate date in case we have a hurricane. I was one of those guys who said it doesn't matter what the weather is, we're going to play. Well, after I got out there, in the first three minutes of pre-game, I was soaked, completely, from my head to my toes. I knew I'd made a bad decision. I should've fought to move it.
"The bad thing about last year, even though we won the game, was that our kids and our community didn't get to experience the atmosphere that we have with 25,000 people. It's always great to win but the experience is also something that's unforgettable. It's great for both communities, it's great for both athletic programs, and it's something that our players will never forget. I think it's such a great event. I appreciate all the sponsors and everything you've done for us to make it bigger and better each and every year.
"Everybody asks questions about your football team. I was very pleased until we started practice yesterday (Monday). The weekend and the heat has kind of taken its toll on us as far as execution. The offense was well ahead of the defense until yesterday. The defense has made tremendous strides the past couple of days. I've been very impressed with the speed of our defense. Offensively, we're probably trying to do too many different things. We're going to have to narrow it down between now and the Salt Bowl.
"I have been pleased with the effort. I think right now, we're ahead of where we were last year. I feel really good about our upper classmen. We've got to find some depth. But our starters on both sides of the ball, our special teams, are going to be solid.
"I'm going to ask Jimi to say a few words about our offense. Jimi's our starting quarterback. As many of you know, he started in week 7 last year against Cabot, was injured, and then we had a string of injuries after that. But Jimi's back and he's 100 percent and we are fortunate to have him."
Easterling: "Everybody knows our main guy is Chris Rycraw. And we're not just going to be running the ball this year, we're going to be throwing too to get him more running lanes to look good. Like Coach Calley said, we struggled yesterday everywhere but we're shifting guys around on the O-line, trying to get them to find the right spot. But we're looking pretty good. We're throwing the ball and we're running the ball well. We expect many big things on offense this year. We've always been a 17-point average team. Me and Rycraw talked and we want to be better than that this year, try to raise it up. Our defense is always going to be pretty good and we need to help them out this year more to get us going, to get us to win conference and far beyond that."
Calley: "We graduated two all-state players on defense that have been a vital part of our program the last couple of years. The question mark, really, going it was the defense, but now I feel much better from what I've seen. I feel like, size-wise, we're bigger in the defensive line. I'm going to let Logan Garland, he's a starting defensive back, a return guy and he also plays some wide receiver, I'm going to let him go into a little more detail about our defense."
Garland: "Like Coach Calley said, we definitely have some size this year on the d-line with Ronnie 'Chocolate Thunder' Maxwell. He's a monster on the d-line. And Josh Hampton who's a D-1 prospect at defensive tackle so he's definitely going to be a force. Then we have three solid linebackers and our secondary has two returning starters and one of them was second place in the indoor, I think, in the 60 meter in track. So we have some speed coming back too. We're ready. We've been practicing really hard."
Calley: "The downside is, I always like to play early because I get jittery and I have to worry about it all the way up to Sept. 4 this year. But I'm looking forward to an exciting football game and I know Coach Quinn's going to have those Panthers ready. Thank you."
Broadway: "Coach Quinn, welcome to the Salt Bowl."
Quinn: "Thank you. I think.
"This is interesting, best thing I can say. I have coached football in seven states. To give you some idea, my wife and I have been married for 18 years, we're now living in our 13th house. She's a good lady. I don't know how smart she is, she's stayed with me this whole time.
"But, I say that, to say this: I've never, in all the places I've lived, seen communities get together for a game like this community's gotten together, the Saline County community. Everybody's right there living at each other's back door. I've been a part of some really good rivalries. I was at Ouachita. We had the OBU-Henderson rivalry. When I was at Northwest Missouri State, we played in the oldest rivalry with Truman State — it was the oldest rivalry west of the Mississippi River. But I think this one is the one where I've seen more people get involved in a single effort than anyplace that I've ever been. I think that's a credit a lot to the people and a lot to the administrators at the schools, and a lot to the players as well. This is an experience that I think is very unique for a high school football player and I've seen high school football in a lot of different states obviously.
"One of the things that we've told our young men is that high school football is about memories. You put it all aside, wins, losses, whatever, it's still about the memories that you have 20, 50 years later down the road. That's still some of the best memories you'll have in your life. I think everything that the communities do that make this happen creates a great memory for these young me to have. It adds a lot to this football game.
"And it's going to be a little bit interesting this year starting off as a new coach with such a big game. I don't this is what you really want. Coach Calley's a great guy and a good friend. I'd really rather not see him on Sept. 4. Maybe a little bit later on down the line, a couple of years from now maybe. We'll see how it goes.
"Really, we're kind of talking about the great unknown. We don't have a lot of starters back from last year's football team. I took this job and I think about two seconds after I said I'll be there I was asked, 'Well, how are we going to do in the Salt Bowl?' And I hadn't even seen a football, a player, a classroom or anything yet.
"Our football team has done a good job of taking the challenge. Our attitudes' been good, our effort's been good. We fight the heat sometimes a little bit like Coach Calley said. It's amazing how physical heat can affect the mental brain. We go a little brain-dead some days but our enthusiasm has been good. Our young me have embraced the change and I'm very proud of that. They've bought into what we're trying to do and I'm very proud of that. What we're trying to do is put a team on the field that is going to play extremely hard and do whatever they can to win and let it fall where it falls. If we can do that then we'll consider that to be very successful.
"From a player standpoint — and our let our guys talk offensively and defensively about that in a minute — we will be playing very young in some spots. There'll be some sophomores out there that you haven't seen before. There are not a lot of guys on this football team that played a lot of downs necessarily last year. Some of them, like Drew, we just kind of got back out late, I guess. But we're glad to have them. So, we've been having to do a lot of groundwork like that.
"As far as our progress, where we're at, we've still got a little bit of a ways to go on our execution. Consistency is what we're looking for right now. I get the proverbial question all the time, what are you going to run on offense, what are you going to run on defense. I don't know. We're trying to figure out what we can do, what we can run on offense, what we can run on defense. But we're getting a little bit closer to having an idea right now that what we had in the past.
"With that said, I'm going to let Drew McCurry talk about us on offense a little bit."
McCurry: "On offense, like coach said, we're going to run what we can but I will promise you this, we are going to play hard-nosed football. We may not be the biggest but we're going to play smash-mouth football. And it's going to be in your face. Whatever the defense runs, it's going to be wrong and we're going to run around it.
"We've got a couple of receivers, sophomore Brooks Balisterri. He's not a big guy but he's got great hands. On the other side, we've got Luke Brasuell, he's a senior, big body, he can use it. On the offensive line, we're pretty young. We have two seniors on the line, our center (Tony) Tricarico and our left tackle Josh Creel. Everybody else is a junior or sophomore. In the backfield, our quarterback is Grant Jones. I'm playing right slot, Ashton Roberts is playing left slot and at the fullback position, we've got Chad Weeks.
"I think we're going to do pretty good. We're changing up the offense. We're running out of the spread and we're going to run a little bit of the option, a little bit of pass, a little bit of everything. But, like I said, we're going to play smash-mouth football. So, we're ready to play."
Quinn: "This is Lee Richardson, one of our defensive lineman. I'll let Lee talk about our defense."
Richardson: "The same goes for the defense as the offense. We're going to play smash-mouth football. We're going to put the best 11 guys we can out there and they're going to play the hardest they can. The two years I've been here, I've never seen the defense with this much enthusiasm. Every play, it's hard-nosed. Whether it be what kind of stunt we're running, what kind of coverage we're running, we're going to do the best we can to get that ball back to the offense.
"We don't have as much speed as we've had in the past but we're taking care of that with our size and our strength and our effort. That's the main thing is the effort that we give each play.
"Bryant, the last two years I've played them, they brought a good team and I know they'll bring another good team this year but Benton's coming back with another good team this year."
Quinn: "Thank you. Not bad. I caught them kind of unprepared."
Broadway: "I want to compliment the guys. I mean no offense to the players we've had up here before but they probably never said more than five words each. These guys had a 10-minute speech, each of them. Hey, I'm proud of them. They could've talked all day."