Coaches, players talk about approaching Salt Bowl, season
EDITOR'S NOTE: Because the look back at each day in Bryant athletic history has been so favorably received during the time when there was no sports during the COVID-19 shutdown, BryantDaily.com will continueposting past stories of Bryant athletics either posted on BryantDaily.com (from 2009 to the present) or published in the Bryant Times (from 1998 to 2008).
By Rob Patrick
Photos by Kevin Nagle
LITTLE ROCK — The annual Salt Bowl press conference at the Razorback Room at War Memorial Stadium is generally designed as a photo op for the Little Rock television stations. As usual, State Senator Shane Broadway talked about the activities surrounding the annual grudge match between Bryant and Benton; about how it keeps getting bigger and bigger each year; that the game attracted a state record crowd of over 26,000 last year and the aim is for more this year.
And the coaches for the two teams, Bryant's Paul Calley and Benton's new coach Scott Neathery, each brought a pair of players with them to say a few things. This time, Calley brought linebacker Hunter Mayall and defensive tackle/tight end Josh Hampton while Neathery brought along quarterback Grant Jones and linebacker Lucas Haley.[more]
Usually, everybody says a few things then the coaches and players pose for pictures with the Salt Bowl trophy and the various TV representatives mike up a player here and a coach there for individual interviews of one or two questions. Then everybody clears out.
This time, however, it actually turned into a full-fledged press conference that lasted about 45 minutes much to the frustration of the TV folks.
The highlights included an extended discussion of Haley's Mohawk haircut and how his parents, his girlfriend and his girlfriend's parents liked it. For the last of those questions, Haley turned to Benton athletic director Steve Quinn to ask him. Then he reported that, " the ladies at church sure seem to like it."
Then there was this from Coach Calley after it was mentioned that he and Neathery coached together at Bryant for a time.
"He wants to beat me so bad right now, he can't stand it," Calley said. "And I want to beat him but it's not him against me. It's Bryant versus Benton. We've got to get our teams ready to play. And I know this man right here (Neathery) like the back of my hand. He's got a bag full of trick plays. And I know he's already started working on them."
"Situational plays," Neathery interrupted, drawing laughter from the gathering.
"He's already started working on them and we've already started working on them," Calley continued, adding in reference to Bryant defensive coordinator Steve Griffith, "I've talked to Coach Grif about it. The last time that I remember him really taking advantage of us was in '05 in the playoff game (when Neathery was the Panthers' offensive coordinator). I think we had a 14-point lead going into the fourth quarter and they scored 21 points rather quickly on those 'situational plays'. We're definitely going to have to be prepared for those."
Later, Calley was asked about the evolution of the Bryant program. During one stretch, Benton defeated Bryant 14 years in a row. Since 1999, Bryant has won nine of the 11 regular-season meetings.
"We expect to win," he said. "That's the way our team sees things now. In the past, it was we expected to lose. But we've slowly changed that mentality over the years."
He recalled the 2008 season.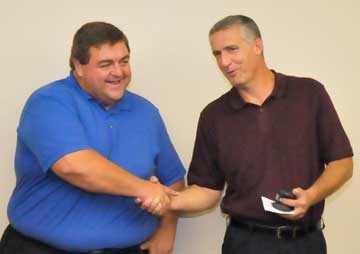 "A lot of these seniors were sophomores," he mentioned. "We had to go to Bentonville and played the No. 1 team in the state, probably one of the most dominating teams I've ever seen. And we went toe-to-toe with them the first half. We actually had a lead late in the first half before the head coach made a critical decision that cost us and allowed them to tie the game.
"But we weren't in awe. We went in there. We played our guts out. They were better than we were. They beat us down in the end but we did not back down and we don't back down. Our guys expect to win."
Looking back further, he continued, "You know it was a Benton coach that coached me in college (Perry Goodell) — I had taken a job in Texas — he called me and told me there's a job opening in Bryant. He said, 'You need to go talk to Coach (Tom) Farmer.' So I called up there. Coach Farmer was too busy and didn't have a chance to talk to me but I talked to one of the assistants. They said, 'Yeah, we got a job opening. You need to come talk to us.'
"I came up there and Coach Farmer was in the process of digging a ditch to put a sprinkler system in, all the way around the practice field," he continued. "So I jump in there and help him finish that. But he laid the foundation. Coach Farmer started doing things right. He started trying to improve the facilities and I think we are right there with every other 7A program as far as the facilities go. A lot of credit goes to him.
"But Coach Goodell told me, 'I know Coach Farmer. He's going to work to make it the best and Bryant is a sleeping giant.' He said, 'One day, they're going to explode. They're going to take off. The population's going to grow, the football team's going to win and everything's going to be great.' And he was right. It's a great place to live."
Mayall was asked to size up the defense. "The defense is coming along pretty well," he said. "We've got a couple of move-ins that are helping us from offense coming over and they're doing a great job. They've just got to learn some stuff, a couple of mental things. But once we get those things fixed, everything's going to be good.
"(The Salt Bowl) means a lot," Mayall said in answer to another question. "Every year it's big, it's intense. I love it. People all around screaming and yelling. It's the best feeling in the world, nothing like it."
"It's awesome," Hampton added. "A couple of weeks after the season's over, we start talking about Benton. We start lifting weights and running again. It's all a build-up to the Benton game."
Hampton was asked about his team's chances of victory. "I'm 100 percent confident," he related. "As long as we go out there and everybody hustles and everybody plays their heart out, there's no doubt in my mind."
Regarding the Hornets' offense, he said, "The offense has come a long ways. We have a couple of new running backs that are pretty good. We're still getting the timing down in the pass routes but I think we can line up with two tight ends and drive the ball down the field whenever."
In his opening remarks, Neathery, who coach Bryant Junior High to a 26-13-1 record in four seasons from 1998-2001, talked about being back on the sideline after serving as athletic director at Benton in the wake of his successful battle against Leukemia.
"I'm super excited about being back coaching football," he stated. "It's just a whole lot more fun to get to play a game for a living.
"As far as the Salt Bowl goes, I told these guys on the way up here, not everybody gets to play in a venue like this," he continued. "It's the biggest high school football game in the state and I just feel very fortunate that Benton gets to play in this game.
"I want to say thanks to Coach Quinn and Coach Farmer (the respective athletic directors) and Gary James (of Coca-Cola) and Shane (Broadway) for all the organization that goes along with doing this. A lot of people don't see all that. Knowing first hand, I know it's a lot of work.
"As far as the ballgame goes, we're going to come down here and we're going to put on a good show. We want to see a lot of people out here and I think it's going to be a good ballgame.
"You look on paper and we're not supposed to beat Bryant," Neathery said. "But that's the cool thing about it. They're a 7A team. They've got a lot more kids to choose from than what we do. But the good thing about it is you don't play the game on paper. We're excited about it and we're planning on coming out and playing with a bunch of heart.
"We've been down a few years, that's no secret. It's doesn't just happen overnight. The thing is, we're going to have to build on success. We went in and changed a lot of stuff. I'll tell you this, Coach Quinn did a lot of good with our program from the inside out as far as straightening some things out. Hopefully, we can go from where he left off and build on that. But I really do think the guys have bought in to what we're trying to do. I think they think it's fun and that's the one thing we want to make sure whatever position you play or whatever we're doing in our program, we're going to make sure it's challenging, we're going to be a class act in everything we do but we also want to make it fun. We want to make our program where it's special to be a part of.
Asked about this season, Jones said, "It's all about restore the glory, getting up-tempo, getting a little more fast-paced than we have been in the past and getting everything going in the right direction. We're planning on having a good season. Everybody's working hard trying to get better each and every day."
Regarding the Salt Bowl, he added, "It's pretty exciting. Not many high school kids get to play in a venue like this. State championship games don't even have an atmosphere like this. So, we're pretty lucky, Benton and Bryant.
"We're getting better," Jones said regarding the Benton offense. "We're throwing the ball around a little bit, trying to get the timing right, trying to score some points."
"We've got a quicker defense," Haley said. "It's not necessarily the biggest size but we're athletic and people who want to be out there playing. Hopefully, it'll be a good year for us."
Calley extended his gratitude in his opening remarks as well.
"I want to thank our sponsors again and I want to especially thank Coach Farmer. He has worked diligently to make this the biggest and the best Salt Bowl ever.
"I told our kids after practice yesterday, there's no doubt in my mind we're going to set a new record for attendance this year," he continued. "The Salt Bowl is a special game. We've played in some big football games and we know how to handle ourselves. Sometimes I don't know how to handle myself. I get a little too nervous and I don't enjoy it like I should. But, if you're a high school football player, this is the reason that you play the game. Not for scholarships, not for accolades — we'll get our scholarships with our ACT scores — but for the love of the game and the atmosphere that you get to play in at War Memorial Stadium against the Benton Panthers. There's no other rivalry like it in the state of Arkansas, maybe even the South. It's a special feeling. It's great for these kids. They get to play in front of more people than the majority of our college athletes in the state of Arkansas. We're thankful for the opportunity.
"We're going to try to approach it as more of a have-fun-and-enjoy-yourself type of game. It's not going to make or break our season if we win or lose. What I'm looking for is the two 'E's', execution and effort. If we go out and we execute and we give maximum effort, we should take care of business, no question. That's what we expect."
Regarding this year's team, Calley stated, "We've got 35 seniors. Anytime you have over 30 seniors, you think you have a chance to be pretty good. I like this football team. I've liked them since the spring. We've made strides in the weight room. We're bigger than we normally are, we're a little faster and stronger than we have been in the past. And I look for big things out of these guys.
"Senior leadership is the key. We've got some young guys that are going to have to play for us. Depth is still a question. If we sustain any injuries, it may be a long season for us."