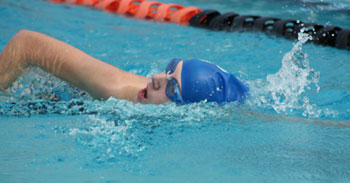 LITTLE ROCK — Jordan Combs knocked eight seconds off of his best 500-yard freestyle time to swim a new personal record in that event. His 5:47.84 was good for 13th place as the Bryant High School swim team finished up the 2009 season at the Arkansas State High School championship meet at UALR on Saturday, Feb. 28.
According to Bryant coach Angel Dale, the girls 200 and 400 yard freestyle relay teams also trimmed time from their best as they earned points at the meet.
"All of our swimmers did a great job this weekend," Dale related.[more]
Bentonville swept the team championships, winning both the boys and girls titles. In all, 30 schools were represented at the meet.
The girls 200 free team of Justine Tazelaar, Alexa Eddy, Sarah Brooks and Erin Moser turned in a time of 1:59.54 to place 12th, earning 10 points for the Lady Hornets.
Jordan Martin, Haley Machycek, Alexa Eddy and Tazelaar picked up points for a 15th place finish in the 400 yard free relay, clocking in at 4:37.37.
In the boys 400 relay, Dylan Machycek, Kyle Douglas, Jesse Wolf and Combs were 18th in a time of 4:17.75.
The 200 free team of Dylan Machycek, Combs, Wolf and Blake Heil finished 25th in a time of 1:50.36.
In the girls 200 yard Medley Relay, Megan Matthew, Alyx Ramsey, Erin Moser and Tazelaar combined to finish 21st in a time of 2:21.
For the boys, Brennan Bullock, Heil, Combs and Dylan Machycek turned in a 2:12.72 to place 23rd.