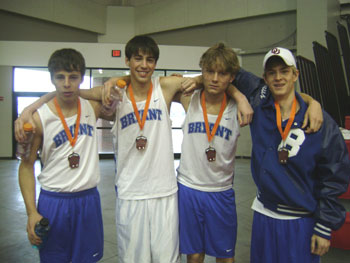 FAYETTEVILLE — The Bryant Hornets, behind sophomore Tanner Tolbert's record-setting performances, placed 12th out of 28 teams at the 5A-7A State Indoor Track Championships at the Tyson Track Center on the University of Arkansas campus in Fayetteville.
Tolbert placed second in the 60 meter dash in a time of 7.16, which is the fastest time ever recorded in that event for a Bryant athlete.
Tolbert then broke the school record in the triple jump by over two feet with a distance of 42'11.75", which earned him a fourth place finish in that event.
Also scoring for the Hornets was the 4 x 800 meter relay team of Brandon Mueller, Colton Klaus, Logan Howard, and Michael Smith, who placed eighth in a time of 8:48.[more]
"Tanner Tolbert showed he is one of the fastest athletes in the state," stated Hornets coach Steve Oury. "He didn't get the best start in the finals of the 60, but he made up about three places in the closing meters to take second. In the triple jump, I think he was determined to get a good jump after scratching in all three attempts of the long jump. Coach Brad Stroud, who coaches our jumpers, has done a great job with him in the jumping events.
"The 4 x 800 relay team made a 21-second improvement over their performance from the ATCA Indoor meet three weeks ago," Oury added. "They fought hard and won their heat and fortunately the time was good enough to place. They have worked hard and it was nice to see their efforts rewarded.
"Overall, we had a lot of athletes set personal bests in the meet," he continued. "Even though the level of competition kept some of those performance from earning points, I think it was a very successful meet for us. I'm still hoping to get Homer Coleman and Daniel Hall back healthy again for outdoor. Had they been healthy, we would have possibly doubled our point total for this meet."
The schedule has the Hornets competing in a practice meet in Conway on Monday, March 9, before officially opening the regular season with the annual Hornet Relays on Thursday, March 19.