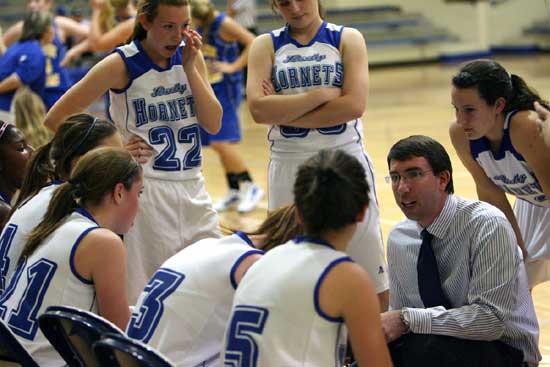 By Rob Patrick
Photos by Rick Nation
After struggling against the zone defense of the Hot Springs Lakeside Lady Rams in the[more] first half, the Bryant Lady Hornets freshman team rallied in the second half to within 2 points. But they just couldn't get over the hump as Lakeside held on for a 21-17 win in the first round of the annual Bryant Invitational Tournament.
Lakeside advances to the semifinals against Conway White tonight at 7:10 p.m., at the Bryant High School gym. The Lady Hornets return to action on Thursday at 5 in the consolation final against a team to be determined tonight.
Lakeside's active zone collapsed on Bryant's post players, Taylor Lindberg and Katie Davidson, and did a good job of getting into the passing lanes on the wing to disrupt the Lady Hornets' offense in the first half. Bryant suffered 15 turnovers and managed just one basket and only eight attempts.
Lakeside led 8-0 after a quarter then held a 12-0 lead before Bryant's Jayla Anderson scored inside with 2:45 left in the first half.
Trailing by 10, the Lady Hornets tightened their own defense and held the Lady Rams scoreless over the final 3:29 of the second quarter and the first 3:49 of the third. Still, they found themselves trailing 14-2 after a basket by Lakeside's Karli Herron with 2:11 left in the third.
Bryant came to life, sparked by Anderson, who picked up a loose ball, drove to the other end and fed Lindberg who scored and was fouled. After she completed the three-point play, the Lady Rams missed twice. Anderson was fouled but was unable to convert at the line.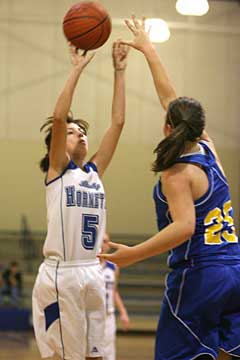 However, Nikki Clay came up with a steal. With :55 left, Destiny Huffman hit a driving jumper to trim the lead to 14-7.
Huffman, who led Bryant with 9 points in its opener against Vilonia last week, had been unavailable in the first half. She would finish with 6 points to go with Anderson's 8 for the Lady Hornets.
Herron, who led all scorers with 11 points, scored in the final seconds of the quarter, giving her team a 16-7 lead going into the final six minutes.
Bryant's surge continued, however, when Huffman hit both ends of a one-and-one opportunity. Moments later, Anderson scored and was fouled. Her free throw trimmed the margin to 4.
And Huffman made a steal that led to a layup by Anderson. Suddenly, the Lady Hornets only trailed 16-14. And when Lakeside missed twice, Bryant had a chance to tie it. But a turnover resulted.
Lakeside called a timeout but, when play resumed, the teams traded turnovers before Huffman and Davidson got shots at tying it. Huffman's shot refused to go in. It rimmed out to Davidson whose follow was blocked. Lakeside headed the other way and a layup by Maddi Perrigo ended the Lady Hornets' 12-2 run.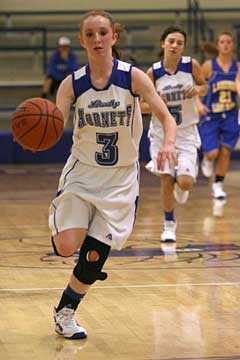 And, after Huffman's shot was blocked, Herron took a 3-point shot that had her coach cringing with just 1:32 left to play. But it went in to extend the lead to 21-14.
The Lady Rams didn't score again after that but all Bryant could manage was a baseline jumper by Huffman that went in and a free throw by Anderson that set the final score.
Bryant cut down on its turnovers in the second half, with just eight, while forcing 11 of Lakeside's 21 after the break. Anderson had 11 rebounds, including eight on the offensive end. Kierra Solinger had four rebounds.
JUNIOR LADY RAMS 21, JUNIOR LADY HORNETS 17
Score by quarters
Lakeside 8 4 4 5 — 21
BRYANT 0 2 5 10 — 17
LADY RAMS 21
Green 0-4 0-0 0, Rudisill 0-2 0-0 0, Hamilton 1-1 0-0 2, Herron 5-13 0-0 11, Cole 1-1 0-0 2, Perrigo 1-5 2-2 4, West 0-1 2-2 2. Totals 8-27 4-4 21.
LADY HORNETS 17
Clay 0-2 0-0 0, Anderson 3-7 2-7 8, Davidson 0-4 0-0 0, Lindberg 1-5 1-1 3, Solinger 0-3 0-0 0, Powers 0-0 0-0 0, Gray 0-1 0-0 0, Curry 0-1 0-0 0, Earls 0-1 0-0 0, Huffman 2-8 2-2 6. Totals 6-31 5-10 17.
Three-point field goals: Lakeside 1-1 (Herron 1-1). Rebounds: Bryant 22 (Anderson 11, Solinger 4), Lakeside 22 (Rudisill, Hamilton, Cole 4). Turnovers: Bryant 23, Lakeside 21. Team fouls: Bryant 8, Lakeside 13.