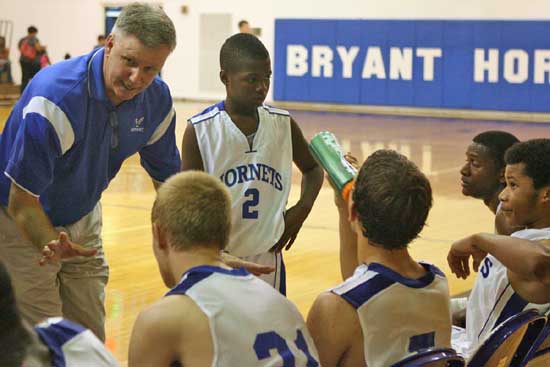 By Rob Patrick
Photos by Rick Nation
The first round game at the Bryant Invitational Tournament between the hosting[more] Hornets freshman team and the Lake Hamilton Junior Wolves, got a little ragged in the first half. It was up and down. Both teams were plagued by turnovers and fouls.
Bryant head coach Jim Pennington didn't like it.
After falling behind 6-0 initially and trailing 16-11 going into the final two minutes, the Hornets closed the gap to 2 on the strength of a stickback by John Winn and his free throw after another offensive board.
"We got some things straightened out at halftime on what type of offense and things we were going to run," Pennington noted, "because we never one time (in the first half) set up in anything that we've practiced. We just kind of got caught up into a rat game with them and we can't play in a rat game. I mean I don't coach that way. We've got to be organized."
The Hornets responded by outscoring the Wolves 34-17 in the second half on the way to a 48-33 win. They advance to today's semifinal against Hot Springs at 6:05 p.m.
"In the second half, we actually ran our stuff and got some open looks and played a lot better," Pennington commented.
"They've just got to learn how we're going to play," he added regarding his team, which is now 1-1. "You know, people press you because they want to speed you up and we can't play sped up. We've got to play under control and we've got to execute. And that's what our junior high team's going to do this year. We're going to execute and run stuff and stay organized."
Among the more organized things the Hornets did was, in certain situations, run a more effective press.
"We've got to get some easy points some times," Pennington said. "We did a good job in the press and that got us back into the game, got us going a little bit, made us play a little bit harder, with a little bit more intensity. It worked out well for us."
The result was a 23-3 blitz that blew the game up.
K.J. Hill led the charge with 20 points including 9 of 9 at the free-throw line. Ryan Hall finished with 10. Brandan Warner and J.C. Newborn added 6 each, Winn 3, Marcus Withers 2 and Kemith Buffington 1.
The Hornets out-rebounded the taller Wolves, 32-17, led by Newborn with 8, Winn with 7 and Hill and Withers with 6 each.
Lake Hamilton's Jason Burks turned in a three-point play to start the scoring in the second half, giving his teama 5-point edge with 4:37 left in the third quarter. The Wolves wouldn't score again until the final minute of the period.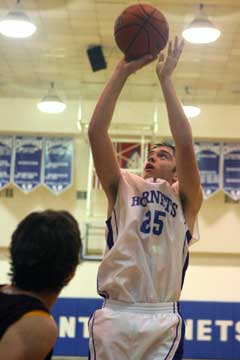 In the meantime, Bryant erupted. Hill hit two free throws then tied it with a three-point play. Warner buried a 3 and the Hornets were ahead to stay. A layup by Newborn at the end of a press-busting play was followed by a layup by Hill off a blocked shot at the Lake Hamilton end.
So it was 26-19 before Burks scored on a follow shot. But before the quarter was over, Withers hit the offensive glass for a basket to make it 28-21 at the break.
After a couple of turnovers early in the fourth quarter, the Hornets kicked it in again. Winn fed Newborn for a basket inside and, after a steal by Warner, Withers got an assist on another Newborn hoop from close range. Hill made a steal and wound up at the free-throw line where he converted twice to make it 34-21.
Donnell West hit a free throw with 3:40 left in the game for Lake Hamilton's first score of the fourth period but Warner trumped that by nailing his second triple, extending the lead to 15 going into the final three minutes.
Sparked by Burks, who finished with 14 points, Lake Hamilton whittled the lead to 11 but on consecutive trips, Newborn, from the right corner, fed Hall on the offside block behind the trapping zone for layups. Between those shots, the Wolves' Samuel Scott scored but, after the second bucket by Hall, Winn made a steal and fed Hill for a layup to push it back to 15.
And when Burks hit one free throw and Hill connected twice, Bryant had its largest lead at 47-31 with :24.9 showing.
The Hornets never led in the first half. After the Wolves scored the game's first 6 points, Hill sparked a rally that cut the lead to one twice but a 3-pointer by Dallas Baldwin in the final minute of the opening period, had Lake Hamilton up 11-7.
The teams traded baskets before Baldwin canned another trey with 3:40 left in the half to give his team its largest lead at 16-11.
JUNIOR HORNETS 48, JUNIOR WOLVES 33
Score by quarters
Lake Hamilton 11 5 5 12 — 33
BRYANT 7 7 14 20 — 48
JUNIOR WOLVES 33
Daley 0-4 0-0 0, West 1-3 1-4 3, Baldwin 3-11 1-2 10, Crumpler 1-2 0-0 2, Burks 6-7 2-5 14, J.Bullard 1-2 0-2 2, Scott 1-1 0-1 2, Woods 0-1 0-0 0, Daniel 0-0 0-0 0, Burkes 0-0 0-0 0, Daily 0-0 0-0 0, E.Bullard 0-0 0-0 0. Totals 13-31 4-14 33.
JUNIOR HORNETS 48
Warner 2-8 0-0 6, Winn 1-7 1-2 3, Withers 1-2 0-0 2, Newborn 3-8 0-2 6, Hall 5-6 0-0 10, Hill 5-8 9-9 20, Fisher 0-1 0-0 0, Nelson 0-0 0-0 0, Green 0-0 0-1 0, Buffington 0-0 1-1 1. Totals 17-40 11-15 48.
Three-point field goals: Bryant 3-9 (Warner 2-6, Hill 1-1, Winn 0-2), Lake Hamilton 3-4 (Baldwin 3-3, Daley 0-1). Rebounds: Bryant 32 (Newborn 8, Winn 7), Lake Hamilton 17 (Burks, Bullard 3). Turnovers: Bryant 18, Lake Hamilton 18. Team fouls: Bryant 16, Lake Hamilton 18.