By Rick Nation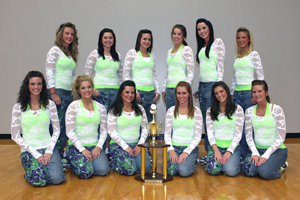 When one thinks of Bryant's plethora of championship squads from past years, many groups come to mind. Most might remember championship girls' basketball teams of the 80's, perennial War Memorial Marching Championship bands of the 90's, or the numerous State to World Champion baseball teams of this decade.
But for a relatively small group of Bryant girls, it's all about dance. Coach Laura Wooten's Stinger Steppers, or Varsity Dance Team as they are now called, have amassed a collection of hardware that would make most any coach envious. They've repeatedly taken the top spot at their regional competition, and have won the overall state championship at the 5A and now 7A classification an unprecedented six times. They have qualified for the National Dance Team Championships each year, making it into the final round for the first time in 2008, and finishing in the top 10 in 2009.
Coach Wooten has managed to "reload" each year rather than having to "rebuild". But what about those dancers who have to move on after graduation? For most, their dance careers end with the performance at the final basketball game of the season.
However, a small band of Mrs. Wooten's former Steppers have taken it to the next level by being selected to join the University of Central Arkansas' dance team, the Honeybears. UCA's squad is Arkansas' only NCAA Division I team that competes at the Universal Dance Association's College Dance Team Championship. The team is comprised of 12 dancers, with eight of the 12 being Bryant alumni. At this year's National Championships they too broke into the elite top 10 ranking.
Pictured from left front are: Kathleen Fricke, BHS class of 2008, Megan Polk, 2006, Laura Marchese, Amy Curtis, Captain Jennifer Gattin, 2006, and Sarah Nation, 2008.Back Row: Cecilee Pamplin, 2008, Sara Adams, Elissa Honea, 2008, Tara Walls, Courtney Patton, 2007, and Sarah Porterfield, 2006.
The team performs at all UCA home football games and most home basketball games. Their next performances will be Saturday, Feb. 7 and Feb. 14.