By Rob Patrick
Photos by Kevin Nagle
CONWAY — The Conway Blue Lady Wampus Cats freshman team had a lot more riding on[more] their regular-season finale than the Bryant Lady Hornets did.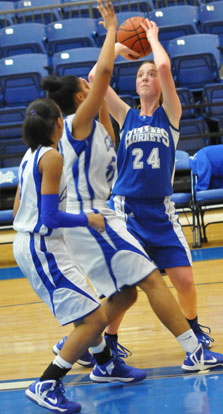 Not that the Lady Hornets didn't want to win badly, but, win or lose, they were already set to be the fifth seeded team at the Central Arkansas Junior High Conference post-season tournament. But the Lady Cats needed the win to secure the league's No. 3 seed over crosstown rival Conway White.
That lent some urgency to the Conway Blue effort, particularly considering they no doubt remembered that they trailed the Lady Hornets, 25-22, at the end of the third quarter when they met in December. That night, they wound up extracting the win by holding Bryant scoreless in the fourth quarter.
This time, though Bryant never trailed, it took another second-half surge for Conway Blue to break open the game at Buzz Bolding Arena Thursday night. And the Lady Cats closed out a victory with a 15-3 run, to post a closer-than-that 41-21 win.
Blue thus grabs the No. 3 seed. Conway White will be the No. 4 seed and take on Bryant in a first round in the league tourney at Cabot on Wednesday, Feb. 13, at 8:30 p.m.
No doubt, the highlight for Bryant on Thursday was a season-high 12 points from the team's tallest player Rachel Miller. With her team trailing 12-4 late in the first quarter, Miller scored the next 8 points for Bryant, twice off nice feeds by Britney Sahlmann, to spark a comeback that had the game tied 12-12 with 3:50 left in the half.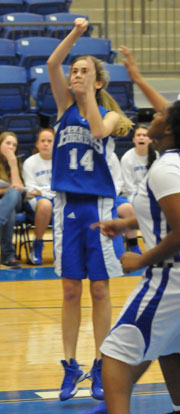 But Conway Blue scored the last 5 points of the half then the first 9 points of the second half to take control of the game.
Two free throws by Miller after she was fouled following her own miss and, later, an offensive rebound basket cut the 14-point to 10. And when Carolyn Reeves got an off-balance jumper in the lane to go, the Lady Hornets were within 26-18 going into the final minutes of the third period.
From that point on, however, the Lady Cats out-scored Bryant 15-3 with a three-point play by Skylar Davis with 3:17 left to play, accounting for the Lady Hornets' lone points of the fourth quarter.
Conway Blue had three players score in double figures, led by high-scoring Alexis Tolefree. Futra Banks and Miracle Holiday added 10 points each.