By Rob Patrick
Photos by Kevin Nagle
CONWAY — The Conway Blue Wampus Cats freshman team has beaten Central Arkansas Junior[more] High Conference rivals Cabot North, Cabot South and Little Rock Catholic this season — all teams that the Bryant Hornets freshman team had not.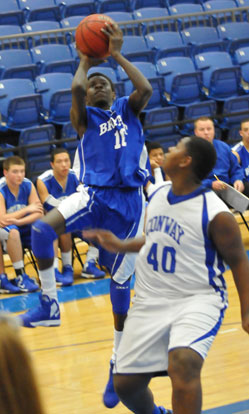 Yet, for the second time this season, the Wampus Cats could not defeat the Hornets, who finished off the regular-season Thursday night with a 46-38 win at Buzz Bolding Arena.
Now, it didn't get the Hornets out of the ninth seed for the conference's post-season tournament and it didn't keep them out of the play-in game, in which they'll take on eighth-seeded Catholic on the road Monday at 6 p.m. But, it showed once again that, when these Hornets play together, play hard and make shots, they can compete with anyone in the league.
"I think so," asserted Bryant coach Mike Simmons. "That's what I've been telling them all year.
"I don't think we're the most talented team in the conference," he elaborated, "but the things that we're doing to lose ballgames isn't because of the other team's talent. It's stuff that we're doing — not blocking out, missing a layup then giving up a layup on the other end. It hasn't been a talent thing; it's just been a combination of little things we're trying to get corrected to be a solid team."
In fact, the only team in conference play that has beaten Bryant by more than 10 points was Benton back on Jan. 14.
Thursday's win could be a launching point for the Hornets as the new season — the conference tournament — gets started. They'll try to turn the tables on Catholic's Rockets after absorbing a 40-33 loss to them on Monday, Feb. 4.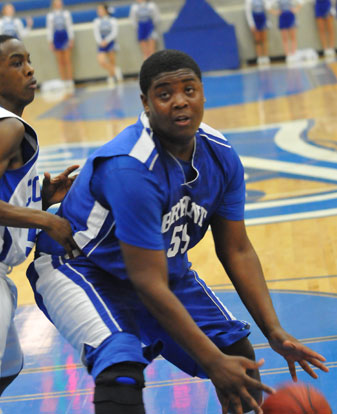 For the Hornets, the win over Conway Blue was a welcome end to a four-game losing marks.
"They've been real positive the last couple of days in practice," Simmons mentioned. "We kind of challenged them. We didn't think we played as hard as we could on Monday. They responded really well for us."
Kris Croom scored 18, Kevin Hunt 11 and Cameron Murray 9 to lead the way against Conway Blue. The Cats were paced by Damarian Johnson who had scored over 30 in a win over Catholic on Jan. 31. He finished with 15 against Bryant. Kris Patrick added 12 points.
After leading by as much as 7 in the third quarter, the Hornets found themselves clinging to a 35-33 edge with 3:59 left in the game. Conway Blue got a chance to tie it or take the lead and had a bead on a second chance when Croom misfired. But there was a scramble for the rebound and Bryant's Clay Ingold finally went to the floor to claim it. Sitting down, Ingold flipped a pass to Croom who drove to the elbow and was fouled.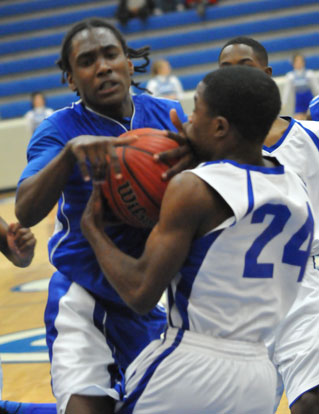 By converting both free throws, Croom made it a two-possession game.
Moments later, Simeon Watson made a steal for the Hornets. He got the ball to Hunt who drove from the right wing for a layup as he was fouled. The three-point play suddenly had the Hornets back up by 7 with 2:40 to go.
Free throws by Johnson and Damonte Allen trimmed the lead to 5 before Patrick scored to make it 40-37 with 1:25 left. After a timeout, the Cats forced a Bryant turnover and Johnson took aim for a game-tying 3 only to have it come out off the back iron.
With Conway Blue pressing desperately, Croom and Hunt found driving lanes and hit layups on consecutive possessions. The Hornets finally got into the bonus with :36.7 left — Conway, by then, had been in the double bonus since the four-minute mark.
Two free throws by Croom with :27.4 to go sealed the victory.
Asked about the difference in his team, Simmons said, "If we'd have just taken the first half, we probably would've won quite a few games this year. It seems like in the second half, we would have these lulls of not being able to score and the intensity not there.

"Tonight, we challenged them at halftime and Kris came out and hit a couple of big shots," he noted. "It kind of got us going and the guys played a lot harder. We got a little momentum going when, in the past, we'd hit that lull and it seemed to get worse and worse and worse. So it was good to see that we turned it around for a change."
It didn't look good early for the Hornets. Patrick, Allen and Johnson each drilled 3's as the Cats built a 9-4 lead. But Bryant responded with a 12-0 run to take the lead.
Hunt was fouled on a drive to the hoop and sank a free throw with :3:40 left in the first quarter, igniting the surge. Croom hit a free throw and, on his missed second shot, Murray collected the rebound and scored to make it 9-8.
A steal by Watson led to a layup for Hunt then the Hornets worked a play for Watson who got a feed from Murray off a back cut and hit a layup to make it 12-9. Croom hit another free throw after a Conway turnover and, following a missed 3 from Patrick, Hunt scored and was fouled. With 1:16 to go in the period, Hunt completed the three-point play to make it 16-9.
Conway whittled the margin to 16-14 before the quarter was over. But a twisting, off-balance jumper by Jordan Walker with :07.9 left had the Hornets up by 4 going into the second stanza.
But the Hornets were held to just 2 points — a layup by Murray off a feed from Watson — in the second quarter. Conway Blue didn't fare much better but, with :34.3 left in the half, Patrick hit a pair of free throws to give his team a 21-20 edge. After a Bryant turnover, his three-point play with :06 on the clock made it 24-20 at the break.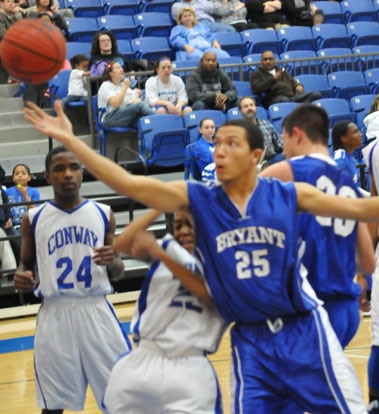 Croom opened the second half with a pair of 3-pointers to put the Hornets back in the lead. Patrick tied it but Croom drove for a layup and, as it turned out, Bryant was ahead to stay with 4:08 left in the third quarter.
Ingold, who had 10 rebounds, second only to Murray's 11, hit the offensive glass with 3:09 left and added to the lead. With Conway missing opportunities at the free-throw line, the Hornets pushed the margin to 35-28 with :28 left in the period.
A free throw by Conway Blue's Dequne Graham sparked his team's rally, which came all on free throws. When Johnson hit the free throws to pulled the Cats within 35-33, the Hornets had been cited for nine fouls in the half while Conway Blue had been called for just one.
They played through that, however, and 24 turnovers, as well, to get the win. It helped they out-rebounded the Cats 39-20.