By Rob Patrick
Photos by Kevin Nagle
CONWAY — The game between the Bryant White Hornets of Bryant Middle School and the[more] Conway Blue Junior Wampus Cats seemed to be hanging in the balance early in the second quarter.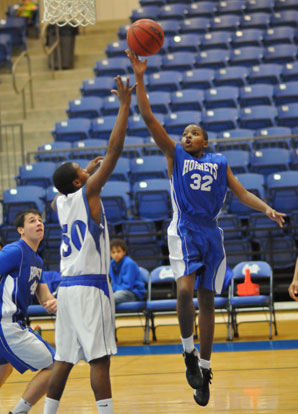 The Hornets had rushed to a 6-0 lead on 3's by Brandon Harris and Romen Martin, but the Cats had tied them at 8 and 10 and had just cut the lead to 12-11 with a free throw. Both teams missed a couple of chances to change that score.
After a Conway Blue turnover, Martin fired a 3 but it rimmed out. His teammate Hayden Knowles scrambled after the rebound and, moments later, Harris got an open look from 3. It too was a bit off the mark but the Hornets retained possession by forcing a held ball.
The ball stayed in the Bryant end of the court as Tyler Kelley couldn't get a shot to go, Martin rebounded and missed the follow. And there was Knowles again to grab the carom and, finally he was able to get the ball in the bucket.
That tenacious effort was indicative of Bryant White's season-ending 37-27 win as well as their 12-1 season as a whole.
Just as typical was Martin's steal to follow up Knowles' basket and Harris' 3. And, after Conway's Beau Hadley misfired, Martin snapped the rebound and sprinted to the other end for a layup, 2 of his game-high 17 points.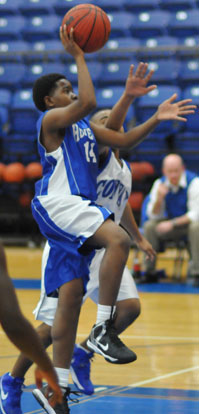 Suddenly, the Hornets were up 19-11 and it was never that close again.
"I'm glad that we were able to go out on a win," stated Bryant White coach Heath Long. "This is not only a group of good basketball players, but a group of good kids as well. They showed up every day ready to work and ready to be coached. When you add those two things in with talent, you have a recipe for success. I'm very proud of them and look forward to what the future holds for them as basketball players and young men."
The Hornets held Conway Blue guards Darius Tate and Antonio Harper to a combined 10 points in the game, something Long felt was key.
"We did a good job of containing their best player, which limited their ability to score," he said. "We also handled their pressure well, and as the game went on, got inside their defense and drew fouls."
The Hornets led 19-12 at the half. Kyle Sahr's offensive-rebound bucket started the scoring in the third quarter. Martin then turned in an acrobatic three-point play and the lead was double digits for the first time.
Baskets by Tate and Harper helped Conway Blue get within 26-19 going into the fourth quarter. Jonathan Allen's layup added to Bryant's total.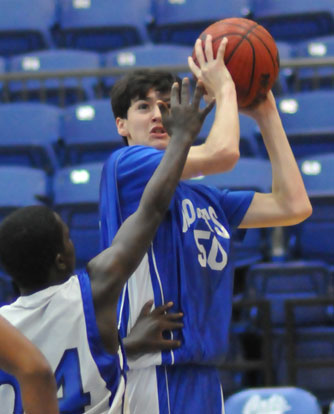 And then Martin took over. His steal and layup with 4:37 left in the game started a stretch in which he scored 9 points in a row for the Hornets. His driving jumper which turned into a three-point play at the 3:41 mark gave Bryant White its largest lead of the game 33-19.
Conway Blue's Kolby Reck answered with a three-point play but Martin canned a turnaround jumper and, in the final minute, free throws by Kelly helped close out the win.
Harris finished with 6 points. Allen, Sahr and Kelly had 4 each and Knowles that key basket in the second quarter.