For more photos of this even by Rick Nation, go here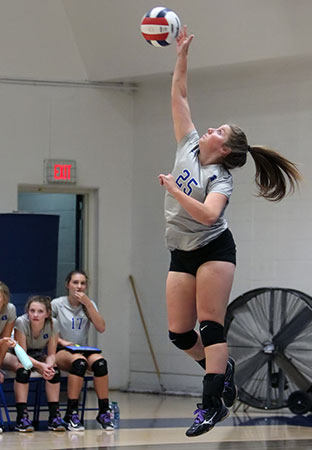 There's a reason the Conway Lady Cats are ranked among the best volleyball teams in the state and clinched a 7A-Central Conference championship last week with an unbeaten run through the league.
They're very good.
The Bryant Lady Hornets were reminded of how good in the final league contest for both teams on Tuesday night at the Hornets' Nest.
Though early in the match, the Lady Hornets continued to show the improvement that they've displayed in recent weeks, they just couldn't overcome the juggernaut, losing 17-25, 18-25, 10-25.
In a junior varsity match, Conway prevailed, 25-11, 25-20.
The result, coupled with a victory by Mount St. Mary Academy victory over Little Rock Central, meant that Bryant will be the No. 6 seed from the Central to the Class 7A State Tournament in Conway starting Tuesday, Oct. 24. Bryant will play at 4 p.m., against the No. 3 seed from the 7A-West Conference, Fayetteville.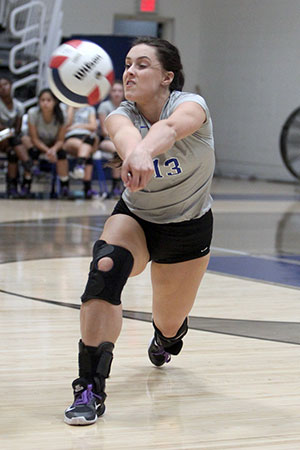 The Lady Hornets are scheduled to celebrate Senior Night on Thursday with a match against Benton, which will be tuning up for the 6A State Tournament in Greenwood.
On Tuesday, the Lady Hornets were limited to 14 kills in the match by the long, athletic front lime of the Lady Cats. Raven Loveless had four with Ashlyn Lee, Truli Bates, Grace Camferdam and Ivory Russ adding two each. Faith Stone and Cassie Ray had one apiece.
Lee had nine assists and Lexi Brown one.
The Lady Hornets were good on 45 of 47 serves but only managed three aces, two by Lee and one by Erin Thompson.
Defensively, Bates and Stone each had solo blocks while Ray came up with 11 digs. Brown and Thompson had five each. Stone and Kyla Baker dug up three apiece.
In the JV match, Russ and Bates had three kills, Stone two with Brown and Ashley Davis picking up one apiece.
Brown had five assists and Imanii Jones two.
Cora Edwards served up a pair of aces and Russ had one. Beard, Brown and Davis had two digs each.