For more photos of this event by Kevin Nagle, go here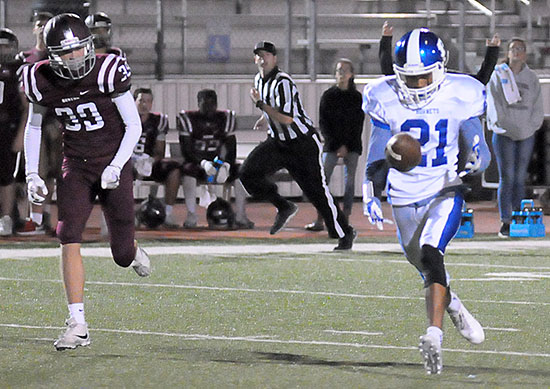 BENTON — The Bryant Hornets junior varsity team picked off three passes including a pick-6 by end Catrell Wallace while Reid Mobley threw two touchdown passes and Keethan Hudson ran for two scores in a 34-3 victory over the Benton Panthers JV on Monday night.
Along with Wallace, Tamarion Wilson and Derrick Rose had interceptions for the Hornets.
The Hornets built a 20-3 lead in the first half. Mobley's swing pass to Braylon Butler turned into a 43-yard touchdown to get things started. Hudson's first TD came from 6 yards out. It was set up by a 35-yard connection from Mobley to Josh Robinson and a 20-yard pick-up on a shovel pass to Trevon Herron.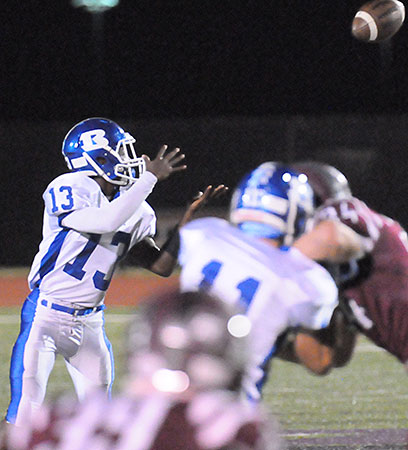 Grayson Scoles added an extra point and it was 13-0.
Benton took advantage of a long kickoff return to get on the board. After the Bryant defense stymied the Panthers' offense, they had to settle for a 23-yard field by Alan Vargas.
Before the half was over, Mobley found Robinson again for a 51-yard touchdown pass that, with Scoles' extra point, set the halftime score.
To start the scoring in the second half, Wallace grabbed a swing pass and sprinted untouched for a 49-yard touchdown. Scoles kicked it to 27-3.
Hudson capped the rout with a 33-yard touchdown run that was punctuated by Scoles' PAT.
Bryant's JV has one more outing this season. They'll host Cabot next Monday, Oct. 23.