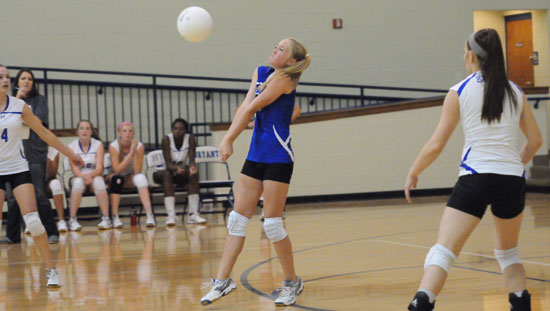 Photos by Kevin Nagle
The Bryant Lady Hornets freshman volleyball team had a four-match winning streak snapped[more] Monday night by the Conway White Lady Wampus Kittens, 19-25, 16-25, at Bryant Middle School gym.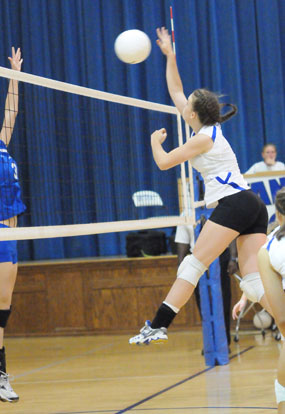 The result left the Lady Hornets 8-6 as the regular-season concluded. They are tied for fourth place in the Central Arkansas Junior High Conference with Mount St. Mary Academy and Cabot North. On a point system, Mount will be the fourth seed, Bryant fifth and Cabot North sixth for the league's post-season tournament to be held at Lake Hamilton this Saturday.
That sets up a match between Bryant and Mount St. Mary in the first round of the tourney on Saturday morning at 9. The winner will advance to a second-round game at 1 p.m. The championship will be held at 3:30 p.m.
Regular-season champion North Little Rock is on Bryant's side of the bracket. A play-in game on Wednesday between Conway Blue and Lake Hamilton will determine North Little Rock's opening opponent at the conference tourney. That game will be played at 11 a.m.
On the other side of the bracket, second-seeded Conway White will take on seventh-seeded Cabot South at 10 a.m. Third-seeded Benton takes on sixth-seeded Cabot North at noon. A winners of those two matches will meet in a 2 p.m. semifinal.