Editor's note: This is a regular feature profiling senior athletes at Bryant High School.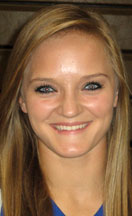 NAME: Hannah Rice

PARENTS: Willie and Connie Rice

SIBLINGS: Aaron (20) and McKenzie (17)

FAVORITE SUBJECT IN SCHOOL: Anatomy

WHAT DO YOU LIKE TO DO IN YOUR SPARE TIME? Tweet and Creep people on social networks

FAVORITE FOOD: Chicken sandwich

FAVORITE MUSIC ARTIST OR GROUP: Alternative, 2000's

FAVORITE MOVIE: Bridesmaids[more]

FAVORITE TV SHOW: I Survived

WHAT WAS YOUR FAVORITE TOY AS A KID? My Build-A-Bear Moledy.
WHAT ARE YOUR PLANS AFTER HIGH SCHOOL? Play college ball and figure out what I want to do as a career.
FAVORITE THING ABOUT VOLLEYBALL: Even if one player messes up, the team can better the ball.
POSITION: Setter
WHAT DO YOU FEEL LIKE IS YOUR PRIMARY RESPONSIBILITY ON THE COURT? Get to every ball and make good sets
WHAT DO YOU THINK OF THE SEASON SO FAR? We're doing really well.
WHEN THE TEAM'S PLAYING WELL, WHAT'S IT DOING? When we play together and get to the right spots.
WHAT'S BEEN THE HIGHLIGHT TO THE SEASON SO FAR? When we came back as a team and beat Russellville in their own tournament.
WHAT'S IT GOING TO TAKE FOR THE TEAM TO BE SUCCESSFUL THE REST OF THE SEASON? Everyone playing together and being in position.

INDIVIDUALLY, WHAT ABOUT YOUR GAME ARE YOU MOST CONFIDENT ABOUT? My digs and hits.
WHAT DO YOU WORK HARDEST TO IMPROVE? My serve being consistent.
AFTER YOU'RE THROUGH PLAYING VOLLEYBALL AT BHS, WHAT DO YOU THINK YOU'LL REMEMBER MOST FONDLY ABOUT IT? The friends I've made and the improvements of the team.