Photos by Kevin Nagle
The Bryant Blue Lady Hornets eighth grade team of Bethel Middle School made the Conway[more] White Wampus Kittens earn it, but the visitor to the Bryant Middle School gym prevailed nonetheless, 25-21, 25-21 on Monday night.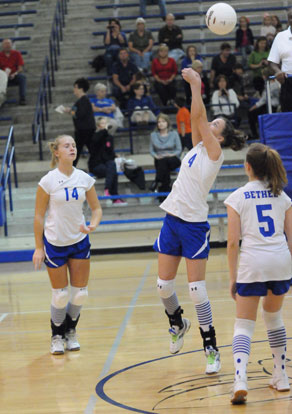 "I was real pleased with how the girls played tonight," stated Bryant Blue coach Melissa Bragg. "At one point, we were down 9-19, but didn't give up. The girls showed a lot of heart and Hornet pride. This is a great group of girls."
Alex Dillard finished with four aces and got in seven good serves in a row. She also contributed a kill. Kendal Rogers turned in five good serves in a row.
Riley Hill had two kills and a block.
"Riley was a beast at the net," Bragg asserted. "Sarah Kennedy, Presli Pendergrass and Ainstley Castleberry had some great hustle plays. Kasey Ward had some beautiful sets."
Bethany Hutchinson, Reagan McCormick and Delaina Brown each came up with a dig.