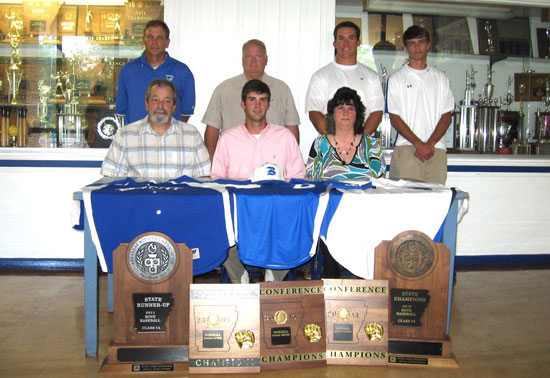 By Rob Patrick
Bryant Hornets head baseball coach Kirk Bock may be as good as there is at preparing a team. And it's[more] not just hitting, catching and throwing. It's hard work and dedication; it's heart and a lot of it is mental. Much of it too, goes beyond baseball.
In fact, Bryant High School is blessed with a lot of coaches like that.
Dylan Cross has always had talent. He's a competitor who can get his teammates fired up or loosened up. But, for a long time, "Dylan Cross" and "mental toughness" were only spoken in the same sentence when separated by "needs to develop a little more".
But that changed this season. As a senior, Cross got it. And he incorporated into his already impressive pitching repertoire.
The result was a great start to the season, going 5-1 with a 1.55 earned run average in the Hornets' first 18 games. A tender shoulder kept him restricted to duty as a designated hitter after that until, on Friday, he returned to the mound and picked up his sixth win in relief in his team's wild 8-7 win over the Fayetteville Bulldogs in the quarterfinals of the State tournament.
And on Wednesday, May 16, two days before the Hornets take on the Rogers Heritage War Eagles in the Class 7A State championship game, Cross' work was rewarded with a scholarship to continue his career on the field and in the classroom at Meridian (Miss.) Community College.
Meridian head coach Chris Curry got a heads-up from Bock about Cross before the XtraInnings all-star games in Jonesboro last summer. Curry was planning on being there and he liked what he saw.
"He stayed in touch with me and Coach Bock," Cross recounted Wednesday. "They were waiting for me to improve during the season and they told me they'd seen my improvement and that there was a place for me. So Coach Bock really helped me out with this one."
Cross only visited Meridian but he considered Mississippi Delta, Three Rivers in Missouri, Vernon in Texas and another junior college in Tennessee.
"Those recruited me hard but after seeing (Meridian) and seeing the guys down there, I thought that's got to be the place to be," he said. "I couldn't turn it down. I liked the campus and what they're about, just the whole thing."
Cross is also hitting .300 this season. As a junior, he batted .328 while going 5-0 on the mound with a 3.64 ERA. His sophomore year, he was 2-1 with a 1.54 ERA in limited varsity work.
"They're getting a high character kid," Bock said. "A guy that's always going to do the right thing. He's going to make mistakes just like everybody else but he's going to make them trying to do the right thing.
"On the athletic side, they're getting a guy that's going to compete every time he walks out there," the coach added. "You know, over the last three years, Dylan's gotten better and better. I think his best days are ahead of him. I think he's going to be a special player for them."
Asked what's been the key to his development, Cross said, "You've got to be dedicated to getting better every day. The coaches do a great job of keeping it fun for us, making sure that we don't get burnt out. It's just a love for the game that you've got to go in everyday thinking it's another day at the office. You're there to work, to get better. It's like in a job, trying to get a promotion. It's the same thing here, I'm trying to get a promotion to the next level. I like to think of it as a job and it makes me work hard."
"The kid works," Bock emphasized. "He's always had a live arm but he works extremely hard and I think as long as he continues to, he's going to continue to get better."
Curry didn't specify a projected role for his new right-hander. Cross concluded, "Whatever they need me for, I'll be more than happy to do it. I mean, as long as I'm on the mound."