For more photos from this event by Kevin Nagle, go here
With around three minutes left to play, Jhorman Cruz weaved his way through the Conway defense and hit a tie-breaking goal from 20 yards out and the Bryant Hornets made it stand up for their fourth 7A-Central Conference victory in a row, 2-1.
"It was a great shot," stated Hornets head coach Richard Friday.
The win improved the Hornets to 7-4-1 overall and 4-3 in league play going into a match on Thursday at home against Fort Smith Northside, one of the co-leaders (with Little Rock Catholic) in the league standings at 6-1. The Hornets moved into a tie with Conway for third place going into the second half of the league slate.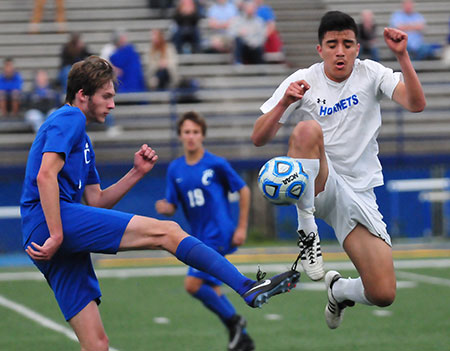 As part of their 0-3 start in conference, the Hornets suffered a tough 1-0 loss at Northside on March 14.
The match with Conway was scoreless in the first half.
"It was a tightly-contested first half," Friday acknowledged. "I think we played better than Conway and missed a couple of opportunities in front of the goal.
"In the second half, we continued to get our opportunities," he said. "Finally, we capitalized when Martin Ramirez picked off a loose ball in front of their goal and put the ball in the back of the net."
The lead held until, with about 10 minutes left, Conway evened it up.
"It came off a poorly-defended corner," Friday said.
That set the stage for Cruz' dramatic goal to win it.