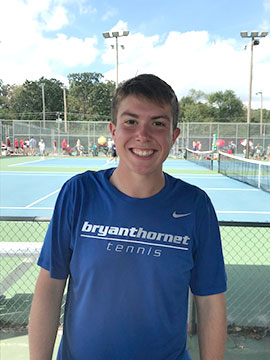 FORT SMITH — With a 6-2, 1-6, 6-3 win over Kaiden Hyatt of Fort Smith Northside on Tuesday at the Fort Smith Athletic Club, Bryant's Blake Cunningham earned a bid to the Class 6A State tennis tournament next week at Rebsamen Park in Little Rock.
Cunningham, the Hornets' number one singles player, advanced by winning his first-round match on Monday.
After defeating Hyatt in the consolation bracket, Cunningham was defeated by Northside's Will Thames, 2-6, 2-6. That put him sixth overall in the 6A-Central Conference tournament.
State will be Oct. 8-9.