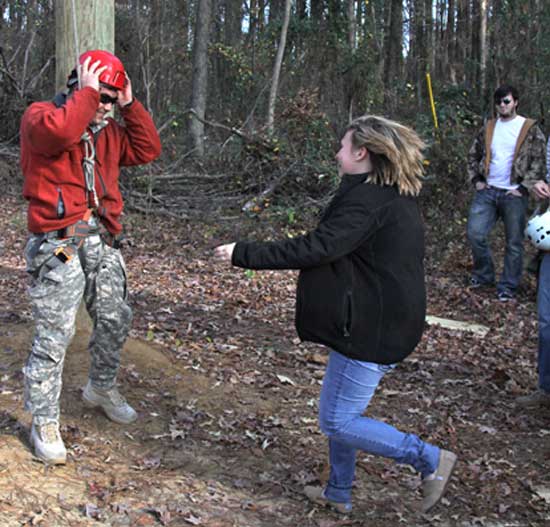 By Kate Patrick
Photos courtesy of Jessica Bollen
Lanie Davis, a ninth grader at Bryant Freshmen Academy, thought it was just another day of[more] class until her father, just returning from Iraq, appeared to surprise her.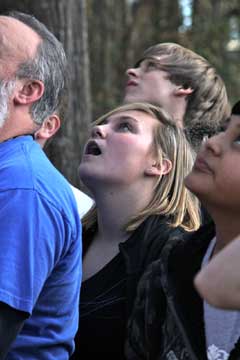 During Keystone, a freshman orientation class, on Friday, Davis, age 15, and her classmates were taken to the ropes course on campus to try out the new climbing wall. Little did she know what her teachers were scheming.
As the students gathered among the trees, Tim Hall, Keystone teacher, put on a helmet and harness and ascended the climbing wall structure. Because of its height, Hall was obscured from the students' view when he reached the platform on top.
Ray Potter, pre-engineering teacher, stood on the ground in front of the wall with the other end of Hall's climbing rope attached to his belt. Potter had Davis spot him by standing behind him and holding onto his belt.
Hall took an unusually long time on top of the platform, claiming that the rope had twisted, until he finally declared that he was coming down the wall.
The man that began climbing down was, in fact, not Hall. He wore a red jacket, army pants and boots. The students, confused, began speculating who this mystery man could be.
When he reached the ground and turned around to face them, Davis suddenly let out an excited squeal and ran to hug him. Davis' brother, Cole, age 12, and their mom, Lacey Rochrock, also hurried up to join the embrace.
Hall, from atop the platform, announced that the man was Davis' father returned from serving in Iraq, and the crowd of students applauded the reunited family.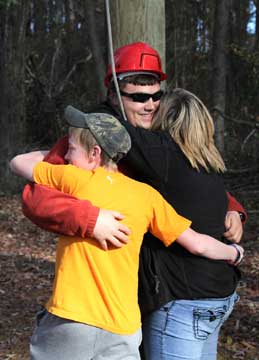 Davis' smile sparkled from ear to ear.
Her dad, Anthony Small, is a sergeant in the First Battalion 185th, an assault helicopter battalion. He works as a helicopter mechanic for Blackhawk. He had been in Iraq for 9-10 months for his second deployment, and he has been back in Arkansas for one night.
Davis knew her dad would be back home on Saturday, but she was completely shocked when he showed up at her school.
"As soon as he turned around, I was like, 'Oh my God!'" she said.
Her parents had planned the surprise since October while Small was still in Iraq, and they coordinated with assistant principal Scott Curtis, who approached Hall and Potter a few weeks ago to come up with the idea. They told students that the press would be at the ropes course to take pictures of the climbing wall.
"We just kind of baited and switched," Potter said.
"I was pretty excited," Small said.
Small said he decided to enlist in the service after 9/11, and he was involved in the ROTC program in high school. Small actually had Potter as a teacher when he was in eight grade at Bryant.
Small should be home "for a while hopefully," he said. "I've heard that we're scheduled to go to Afghanistan in 2014."
"I'm shaking," Davis said. "I feel like I've been put on Punked."