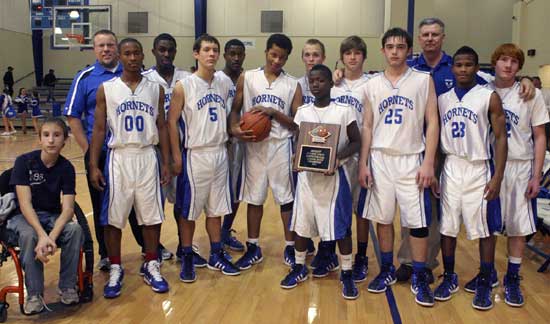 Photo by Rick Nation
With the game tied 31-31 with less than a minute to play in the championship of the[more] Bryant Invitational Tournament Thursday night, the Conway White Wampus Kittens tried to go inside to their 6-4 center. But Bryant's Ryan Hall stepped in to steal the pass. He got the ball to teammate K.J. Hill who was fouled.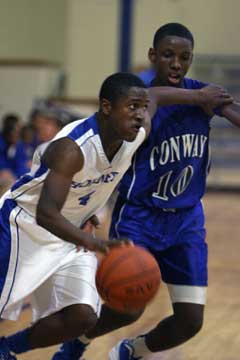 At the other end, Hill converted twice to snap the tie. Conway White misfired. Hill converted at the line again and the Hornets freshman team closed out a thrilling 36-31 win for the tourney crown.
"Our kids plays so hard," emphasized Bryant coach Jim Pennington. "Conway White is pretty good. It was just a really good basketball game. It could've gone either way. It was a good game for us."
The game was tied at 10 after a quarter. Bryant pushed out to a 21-16 lead at the half and held a 29-26 edge going into the final period.
Hill finished with 11 points including 5 of 6 free throws in the fourth quarter. J.C. Newborn added 7 points and John Winn 6. Brandan Warner and Hall each scored 4 with Marcus Withers and Brushawn Hunter pitching in with 2 apiece.
"Ryan Hall played an oustanding game," Pennington said. "As a matter of fact, he held their big kid scoreless.
"We definitely wanted the ball in K.J.'s hands at the end," he noted. "He was 9 out of 9 at the line the other night against Lake Hamilton. He really played a great floor game too. He ran the team really well. He was outstanding against (Conway)'s pressure. They really had good man pressure. They even double-teamed him on the press and he handled it. He made the right decisions and really played well."