CLARKSVILLE — Arkansas Baptist High School baseball standout and recent graduate Joshua Davis[more] will continue his baseball career at the University of the Ozarks, it was announced by Ozarks' head baseball coach Jimmy Clark.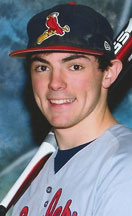 Davis, a catcher, hit .353 with 24 RBI en route to earning All-Conference his senior season. He also posted 32 hits with one homerun and owned a .487 on-base percentage. The right-handed hitter had seven multiple-hit games for Arkansas Baptist. In a win over Pulaski Academy, Davis went 3-for-3 with 4 RBI. He was selected to play in the Central Arkansas All-Star Game. As a junior, Davis helped Arkansas Baptist win a district championship.
"Joshua is a good hitter and has a lot of potential as a collegiate hitter," said Clark. "He is a guy that can hit for extra bases. Behind the plate, he is great at blocking and receiving. He is fine student in the classroom and has a solid work ethic. We are excited Joshua is joining our program."
He plays summer league baseball for the Diamonds Baseball Club.
He is the son of Eddie Davis and the late Tammy Davis.
Ozarks competes in the 14-team American Southwest Conference, one of the largest and premier intercollegiate athletic conferences in NCAA Division III.