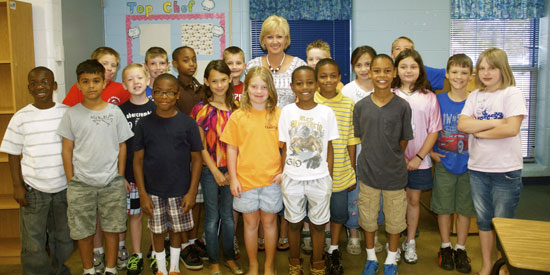 By Michael Kornegay
Kathy Daniel has worked for the Bryant School District for 26 years and has taught[more] for 27 years (with one year being in the Memphis area). Currently, a third-grade teacher at R.L. Davis Elementary School, she has been named the Teacher of the Year in the District for 2012.
Daniel was chosen from among 10 teachers named as Teachers of the Year for their respective schools. They are Mollie Doolin, Bryant Elementary; Ashley Poe, Collegeville Elementary; Martha Wright, Paron Elementary; Angela Mask, Hurricane Creek Elementary; Andrea Willis, Salem Elementary; Kimberly Overstreet, Springhill Elementary; Jennifer Francis, Bethel Middle School; Kathy Tankersley, Bryant Middle School; and Stewart Wright, Bryant High School.
Married to Tom Daniel, the couple have two children, Trent who is a starting pitcher for the University of Arkansas Razorbacks baseball team and Hayden who has just finished his junior year at Bryant High School where he was apart of the State champion baseball team.
Mrs. Daniel said she has always loved the Bryant community and has always thought that Bryant had the best school district in the state. There is not a day that goes by, she said, without her trying to improve the overall outcome of her students.
"My goal and personal belief is that all children can learn and excel in all areas when they feel safe, loved and fully trust that I believe in each of them," she said. "Teaching younger students gives me the chance to create a rich new world where their imagination and learning experience allows them the freedom to achieve the unimaginable. Each student is unique and has something special to offer the world."
Her hard work and dedication to the school district is evident, according to Davis Principal Tiffany Beasley.
"She has the biggest heart for kids and is a natural teacher," Beasley said, adding that when she watches Daniel teach, "It is like watching art, and everyone should aspire to be like her.
"She was very deserving of the award," the principal added. "She makes my job very easy."
Daniel is now going on to the statewide competition for Teacher of the Year. The extensive process requires that she submit essays and her teaching philosophy. There will be regional finalists from each of the 15 different religions throughout the state; each of them will receive a $1,000 reward. Then, four finalists will be selected from the 15. From those four, the State Teacher of the Year will be chosen. An additional reward of at least $14,000 goes to the selected teacher.