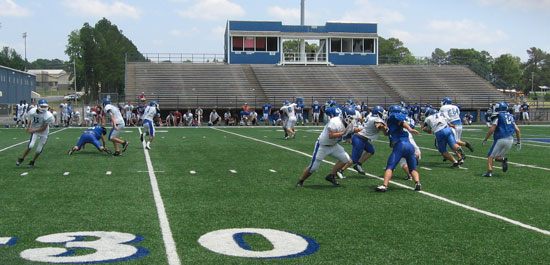 By Rob Patrick
Reflecting back over the two weeks of spring football practice in pads as it concluded Thursday, Bryant[more] Hornets head football coach Paul Calley recalled just one disappointing day of practice out of the 10.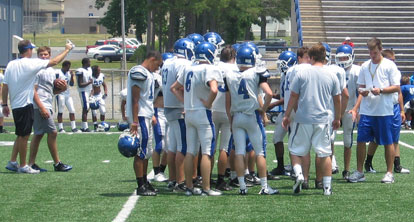 "Actually, it was really good and really bad," he noted. "We started with an Oklahoma drill where you've got an offensive lineman, a defensive lineman, a ball carrier then you have a defensive back and a wild receiver or tight end and linebacker blocking five yards further downfield.
"The ball carrier's got to stay between the dummies," he continued. "It's real physical. And, man, we responded. We had people hitting and getting after it that I didn't know could hit and get after it. But, after that, we were done. We tried to go scrimmage and there was nothing left."
It turned out to be a more productive spring than Calley initially feared it might. He and his staff were all enthused about the progress the team made even though some key players — including quarterbacks Hayden Lessenberry and Wes Akers along with starting offensive lineman Blain Jackson — were involved in baseball up until the final few days and new offensive coordinator Lance Parker was only available for the first two days and the final one.
"It goes a lot smoother when he's here because he understands what he wants to do and all the terminology," Calley mentioned. "We've been trying to make it work with him not here but sometimes we had questions that we couldn't answer, weren't sure about. But overall, it was very productive.
"I really like this group of kids," the coach declared. "I like the attitude, the competitiveness, the dedication. I've had teams where they performed in the weight room but you had to make them go to the weight room sometimes. These guys, they want to be in there all the time and, when they're in there, they're going to make the most of it. We've got some vocal leaders. We've got some emotional leaders. We've got some quiet leaders and you need all those."
Of the offense, Calley said, "I was really pleased with what we accomplished. I felt like we did a good job overcoming young quarterbacks. I thought the two young quarterbacks, Madison Schroeder and Brandan Warner, did a really good job. They came in and learned a new system very well. They were leaders on the field even with the varsity guys.
"I feel like we've got as many skill people as we had last year," he noted. "We're not going to be very deep there but we've got some guys that can play."
The Hornets also return offensive tackle Ian Shuttleworth and running back Jalen Bell on offense. An infusion of sophomore skill players like Brushawn Hunter and K.J. Hill among others helped fuel the enthusiasm.
"On the offensive line, we were missing Blain but overall we did a good job. We changed out pass protection a little bit, which I think has helped us with a more defined pocket to allow the quarterbacks to step up."
The ability and numbers on the offensive line allowed the Hornets to move incumbents Cortez Williams and Kordell Boykins to the defensive line.
"The defensive side is really impressive," Calley mentioned. "I was very pleased with those guys and I think we'll be better on defense than we've been the last couple of years; maybe not as big but definitely faster."
Defensive coordinator Steve Griffith liked what he saw with returning starters Aaron Bell, Tim Kelly and Tyree Reese providing the core.
"I felt like we had a really good spring," he said. "I felt like we made a lot of progress. I think we're a little more athletic on the defensive side.
"I'm very excited about the defensive line and the aggressiveness they showed this spring," he continued. "Their ability to get off the ball then their ability to change directions and get back in on plays when they are out of position."
At the ends, Griffith said, Justin Hollingshead, Boykins and Kelly were working with Jared Koon and Williams working inside.
"Koon, at the one technique, had a very good spring and so did Cortez Williams at the three," the coach said. "Kordell Boykins worked some three technique too to give us some flexibility in there. We're very excited about all those defensive linemen.
"We've got some younger guys that are starting to come on so we're hopeful that the long August we're going to have is going to give us a chance to bring them along to add to our depth," he added.
Griffith said the linebacking crew was making progress with Reese in the middle. "He's progressed from where he was last year," he mentioned. "We've benefited a lot from having Coach (Taylor) Stone as our student teacher. He was a starting 'Mike' at Henderson. It's really nice having him stand behind Tyree and give him some tips this spring. We really appreciate this work.
"At outside linebacker, Collin Battaglia and Stoney Stevens are working at the 'Sam' and they both had a good spring," Griffith continued. "We're still working on our weakside. We've worked Bryce Denker, Austin May, Colton Burton — several guys working there. Tim Kelly moved back and had some really good work at weakside linebacker too. He'll give us a dimension there of having him on the field not just at defensive end but, with the emergence of a couple other guys at d-end, we can actually back him up to play some linebacker."
Bell leads the pack in the secondary.
"We're kind of young," Griffith said. "But they got better everyday. We're very excited. A.Bell is going to be the leader for us. He's been out there on the field some as a sophomore, full-time as a junior. He's really stepped up and looked good. We've got some young guys in there at safety, some sophomores along with Davis Nossaman, a junior, and Jake Johnson, a junior.
"We're excited about the way they tackle this spring," he mentioned.
"At the other corner, we've got several guys. Darrien Jarrett gives us a long body which we've not had a corner before. And we're really excited about Mar'Kevious Nelson and Brushawn Hunter, a couple of sophomores who really showed some aptitude."
The Hornets will play Little Rock Hall in a pre-season scrimmage on Aug. 21 then open the season at home against the rival Conway Wampus Cats on Friday, Aug. 31.

BRYANT HORNETS
2012 Football Schedule
Aug. 21 — Little Rock Hall (scrimmage)
Aug. 31 — Conway
Sept. 7 — Little Rock Central
Sept. 14 — at Little Rock Catholic
Sept. 21 — Benton* (Salt Bowl at War Memorial Stadium, Little Rock)
Sept. 28 — at Pine Bluff*
Oct. 5 — at Little Rock Fair*
Oct. 12 — Sheridan* (Homecoming)
Oct. 19 — at Texarkana*
Oct. 26 — Lake Hamilton*
Nov. 1 — at El Dorado*
*7A/6A-South Conference games
BRYANT HORNETS
2012 JV/Sophomore schedule
Aug. 27 — Pine Bluff
Sept. 10 — LR Catholic
Sept. 17 — at Cabot (JV)
Sept. 17 — HS Lakeside (Soph)
Sept. 24 — at LR Central
Oct. 1 — North Little Rock
Oct. 8 — at HS Lakeside (JV)
Oct. 8 — Bauxite (Soph)
Oct. 15 — Benton
Oct. 22 — Cabot