Mask, Chumley lead Hornets past Sheridan
EDITOR'S NOTE: Because the look back at each day in Bryant athletic history has been so favorably received during the time when there was no sports during the COVID-19 shutdown, BryantDaily.com will continueposting past stories of Bryant athletics either posted on BryantDaily.com (from 2009 to the present) or published in the Bryant Times (from 1998 to 2008).
By ROB PATRICK
BRYANT TIMES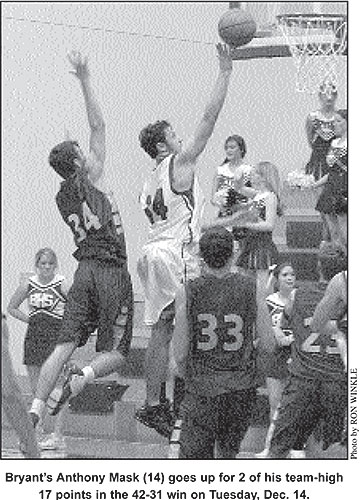 At Sheridan on Nov. 18, the Bryant Hornets had the rug pulled out from under them. After leading most of the game, a 3-point shot from 40 feet at the buzzer left them numb and defeated 42-41.
So, it was with some relish that they hosted the Yellowjackets on Tuesday, Dec. 14.
Sparked by Anthony Mask, one of three new starters in the game who scored 17 points and a second straight double-double by Jeremy Chumley, the Hornets rolled to a 43-31 victory.
"It took a team effort," said Chumley, who had 10 points and 15 rebounds in the game after scoring 16 and collecting 11 against Van Buren a few days before. "We all played good as a team. We had the new starters in which helped us out a little bit, I think, and those guys that had been starting did good coming in off the bench."
The Hornets never trailed after Chumley took a pass from Mask and hit a layup with 5:56 left in the first quarter to erase a 5-4 Sheridan lead. That bucket started an 11-1 run for Bryant that included a pair of free throws and a 3-pointer by Mask which made it 11-5. After a free throw by Sheridan's Derek McCarthy, Chris Chumley followed his own miss for a bucket, Chad Pitts made a steal, moments later, rifled a defense-splitting pass to Jeremy Chumley for a layup and a 15-6 lead.
The Bryant effort was aided by the defensive play of Micah Farish, Ryan Moss and John Newman on Sheridan gunner T.J. Wreyford. He was held to just 9 points, hitting just 3 of his 10 3-point attempts.
Bryant led 17-9 at the end of the quarter and when Moss fed Jeremy Chumley for a layup after Pitts and Chase Shaw had teamed up to force a turnover, the lead was 10 early in the second period.
Sheridan's Hunter Brown scored off a baseline drive but Pitts countered with a 3 to make it 22-11.
Later in the half, Jeremy Chumley's layup was followed by 3's from Pitts and Mask as the margin ballooned to 30-14. Wreyford's 3 just before the buzzer made Bryant's lead 13 at the half.
The Hornets struggled to score in the third quarter missing all 11 of their shots from the field.
Only free throws by Jeremy Chumley changed the Bryant total. But the Hornets' defense stayed tough enough that Sheridan could only trim the margin to 32-24.
A pair of free throws by McCarthy had Sheridan within 32-26 early in the final period but Pitts fed Mask for a layup, Shaw scored off an assist from Mask and the lead was back to 10. Mask added four straight free throws to make it 40-26 and the Hornets eased to victory.
Mask, Chumley lead Hornets past Sheridan