BENTON — Though it felt like it could've snowed, there was none at Tyndall Park on Thursday, Feb. 19, except that big old snowball that started rolling over the Bryant Lady Hornets softball team in the third inning.
It kept getting bigger and bigger and the rival Benton Lady Panthers took advantage, turning a tight 1-0 game into a 7-0 lead in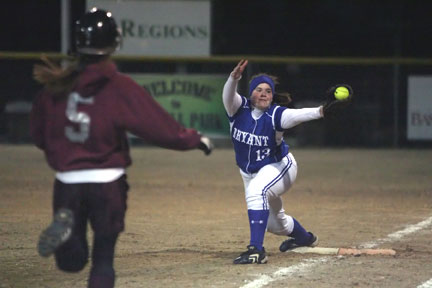 the opening game of the season for both teams.
Benton wound up with a 7-1 win.
The third inning began with an error allowing Bailey Levart to reach base. A force out followed as Laikin Davis reached but then another error on a ball hit by Kyliegh Bennett and a passed ball produced a run. The snowball started picking up momentum with a walk to Tara Nalley, hit by Katie Nichols, an outfield error on a ball hit by Emily Chastain, another walk to Tiffani Pledger and a second hit, a single by Kara Franklin.
Hardluck starting pitcher Christen Kirchner gave way to freshman Peyton Jenkins who was welcomed to high school softball with a double by Katelyn Eubanks on her third pitch completing the scoring.[more]
Jenkins, however, struck out Levart to end the inning then allowed just three baserunners the rest of the game, striking out six.
"Getting beat 7-1 isn't exactly what I expected," said Lady Hornets head coach Lisa Stanfield. "However, I was encouraged by a lot of things we were able to do well including pitching and solid hitting. If our defense doesn't step up to match that, it will be a difficult season. Benton was able to put the ball in play at the right times. They have some really good hitters."
Benton's first run was unearned as well. In the second, Pledger singled, stole second and scored on a two-out error that allowed Eubanks to reach, though she was called out to end the
inning when a Benton coach tried to steer her to second. Base coaches aren't allowed to touch the baserunners.
The Lady Hornets, meanwhile, put runners on base in five of the seven innings but could only come up with a key RBI hit in the fourth. Jenkins had led off the inning with a double. She scored on a single by Brandi Barnes. Sarah Hart followed with a single but Nichols fanned the next two batters to get out of the inning with a 7-1 advantage.
Bryant had threatened in the first when Kim Wilson reached on a one-out error and raced to third on a double by Kirchner. But Nichols got out of the jam with two of her 10 strikeouts.
In the third, Wilson doubled and reached third on a misplay with two out but was stranded when Kirchner flew out to right.
The last Bryant threat came in the sixth when Kirchner walked, swiped second and took third on a grounder off Barnes' bat. Hart walked to put runners at the corners but they too were left on when Kelsie Works was thrown out by Franklin, the Benton catcher, on a tap in front of the plate.
The Lady Hornets, who just added three freshman players and expect junior Shanika Johnson back after high school basketball, will return to action on Monday, Feb. 23, in their home debut against Vilonia.