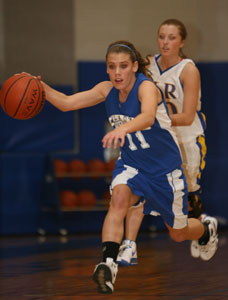 By Rob Patrick
NORTH LITTLE ROCK — Losing to the North Little Rock Lady Charging Wildcats is hardly a surprise for any team in the state short of unbeaten and top-ranked Fayetteville. So, in itself, the Bryant Lady Hornets' 69-48 loss to the 7A-Central Conference leaders is just kind of the way of things in 2009. North Little Rock has won all of its conference games this season, having clinched the league title a while back. The Lady Cats are now 21-3.
The concern is that, after winning 9 of their first 10 league games (the lone loss to North Little Rock), the setback at North Little Rock on Friday, Feb. 20, is the Lady Hornets' third in a row. And they're only one game away from starting play in the Class 7A State Tournament in Fort Smith.
"Well, you're going to be concerned when you lose three in a row but, in all honesty, we knew coming into the conference season, this was the toughest stretch of our schedule," commented Bryant head coach Blake Condley. "The first round, we were able to get a win over Conway and a win over Cabot then we lost to North Little Rock. That second time around, they want some revenge and you've got to play well if you're going to beat good teams. I thought we did the first time we played those teams. The second time we've played them, we just haven't played very well and you can't not play very well and beat a good team."[more]
The Lady Hornets struggled to find their range on offense. For the game, they shot just 27 percent from the field (14 of 51) and they were just 5 of 26 in the first half.
Still, they were just down 11-7 going into the second period when North Little Rock put together a 7-1 run midway through to establish the first double-digit lead, then closed out the half with a 9-2 stretch that produced a 35-21 halftime lead.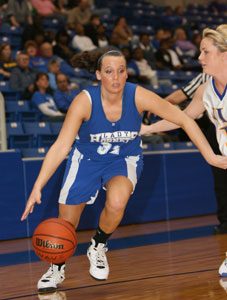 North Little Rock didn't start out any hotter than Bryant, hitting just 4 of 17 from the field in the opening period but the inside trio of Dominique Smith, Casse Vaughn and Markesha Hawkins started getting the ball in good position to score in the second quarter. They would eventually combine for 45 of the Lady Cats' points in the game and 31 of the team's 55 rebounds.
"I think some teams have made some adjustments on us and we're a little slow about making our adjustments," Condley commented. "Not that we haven't recognized them and talked about them but things have worked well the majority of the season and now that we're having to make adjustments that other teams might've made earlier in the season. We haven't had to. Teams haven't caused us much problem until this last week and a half or two weeks. We'll just work on it and try to get better and hopefully we get it fixed by Tuesday night and have a good game heading into the State tournament."
The Lady Hornets will host Little Rock Central in the home finale when seniors Anna Simpson and Taylor Hughes will be honored. Hughes, the starting point guard was ailing on Friday and did not play.
"I'm just concerned with our quality of play," Condley emphasized. "I just want us to play well, do things well. Tonight, I saw some good things. I thought Hannah Goshien rebounded well tonight. I thought she played very intense on defense, she just didn't shoot as well as she has been but that's going to come back. I thought Shanika Johnson came off the bench and gave us good minutes. There are some good things I'm seeing, we just need to put it all together for four quarters."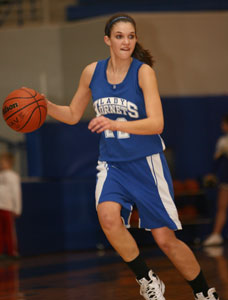 Goshien led the team with nine rebounds to go with her 9 points. She struggled from the field, however, converting just 2 of 12 shot attempts. Simpson led the team with 13 points and she related to one on-looker that it was the first time she'd played in a game without Hughes since eighth grade.
Simpson had converted four consecutive free throws in the second quarter, pulling her team to within 17-13 of the Lady Wildcats. But Hawkins hit a 12-footer and, after a pair of missed opportunities for the Lady Hornets to answer, Robnecia Taylor got free for a layup. After Alana Morris hit a free throw and Johnson was unable to cash in on an offensive rebound, Vaughn hit a layup and Kayla Brown hit a free throw to give North Little Rock its first double-digit lead with 3:06 left in the half.
Two free throws and a 3 by Goshien around a basket by Smith had Bryant within 26-19 going into the final two minutes of the first half. But North Little Rock finished with a flurry, sparked by Vaughn who always seemed to get lost amid Bryant's scrambling defenders and it was invariably near the basket. Vaughn had 7 points in the final two minutes of the half, establishing a 35-21 lead going into the locker room.
Simpson hit a 15-footer and, after a Hawkins miss, Morris scored inside to whittle the lead back down to 10 but a three-point play by Vaughn started a counter-surge by the Lady Cats that produced a 52-33 lead.
Johnson scored off a nice feed from Montgomery to start the fourth quarter but Hawkins canned a short jumper then nailed a 3 to bump the lead to 22. Bryant couldn't get the margin under 20 until late in the game when both teams had substituted liberally.
LADY CHARGING WILDCATS 69, LADY HORNETS 48
Score by quarters
BRYANT 7 14 12 15 — 48
No. Little Rock 11 24 17 17 — 69
LADY HORNETS (18-6, 9-4) 48
Player fg-fga ft-fta reb. fls. pts.
o-d-t
Montgomery 1-3 2-2 0-1 1 2 4
Goshien 2-12 4-6 5-4 9 2 9
Calley 0-4 0-0 0-3 3 4 0
Simpson 3-8 7-8 2-2 4 3 13
Morris 2-11 1-5 2-4 6 2 5
Stearns 3-3 0-1 0-3 3 3 6
Johnson 3-7 0-0 1-0 1 2 6
Parish 0-0 2-2 1-0 1 0 2
Nelson 0-1 1-2 0-0 0 0 1
Tucker 0-0 1-2 0-0 0 0 1
Neal 0-1 0-0 1-0 1 0 0
Hendricks 0-0 1-2 0-0 0 0 1
Harrison 0-1 0-0 0-0 0 1 0
Team rebs. 1-6 7
Totals 14-51 19-30 13-24 37 19 48
LADY CHARGING WILDCATS (21-3, 12-0) 69
Player fg-fga ft-fta reb. fls. pts.
o-d-t
James 1-6 0-0 1-3 4 2 2
Seale 3-10 0-0 0-1 1 2 6
Williams 1-1 0-0 1-0 1 4 3
Heltom 1-4 2-2 0-2 2 1 4
Smith 6-13 5-6 4-7 11 3 17
Hawkins 4-8 2-2 1-7 8 1 12
Vaughn 6-11 4-5 6-6 12 0 16
K.Brown 0-5 1-4 3-2 5 2 1
Olson 1-3 0-0 0-0 0 5 2
Taylor 2-4 0-0 1-3 4 3 4
Patterson 1-3 0-0 1-0 1 1 2
A.Brown 0-0 0-0 1-0 1 1 0
Team rebs. 3-2 5
Totals 26-68 14-19 22-33 55 25 69
Three-point field goals: Bryant 1-18 (Goshien 1-9, Morris 0-4, Johnson 0-3, Montgomery 0-1, Simpson 0-1), North Little Rock 3-21 (Hawkins 2-6, Williams 1-1, James 0-3, K.Brown 0-3, Seale 0-3, Olson 0-2, Heltom 0-2, Vaughn 0-1). Turnovers: Bryant 18, North Little Rock 12.