By Rob Patrick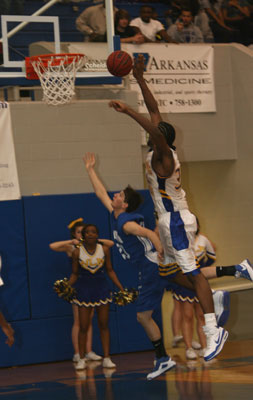 NORTH LITTLE ROCK — Particularly in light of their star-crossed 7A-Central Conference season which had left them without a third consecutive trip to the State Tournament to look forward to, the Bryant Hornets showed more heart than anyone could've expected.
On the road, against a league rival that is battling for seeding for its trip to State, the Hornets built a 14-point halftime lead then persevered as the tenor and physicality of the game changed in the second half. They still managed to take the North Little Rock Charging Wildcats to double overtime before absorbing a punch-in-the-gut 62-59 loss.
It was a game full of "Oh, my" moments.
With a minute left in regulation, the Hornets had a 49-45 lead with the ball. But a North Little Rock double-team produced a steal as Bryant coaches Mark Smith and Chad Withers protested vehemently, calling for a foul on the play.
Senior Kyle Drake, in his final home game, had not scored to that point despite starting. But, with :40 left, he drained a long 3 to cut the lead to 1.
At the other end, another double-team brought another turnover that, in the process, sent Bryant point guard K-Ron Lairy to the ground, drawing more protestation from the Bryant bench again to no avail. Drake missed another 3-point try but 6-8 Terry Tidwell kept the ball alive on the glass and Drake flew in for a tip that put North Little Rock ahead for just the second time since it was 2-0.[more]
A tipped pass went out of bounds off a Bryant player with :12.5 showing. Reggie Bryles was fouled immediately but sank just one of two free throws to make it 51-49.
The Hornets broke the North Little Rock press, but the looming Tidwell was back. As senior Tim Floyd set up in the left corner, sophomore Tyler Gattin took the ball right at Tidwell and got a flying layup to go in despite the fact that the North Little Rock center got a piece of the ball on the way up.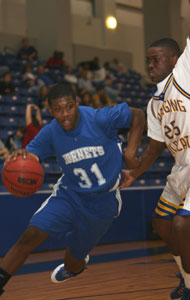 The basket tied the game and sent it into the first overtime in thrilling fashion.
Tidwell, who finished with 22 points and 11 rebounds, hit a free throw and, after a Bryant miss, scored inside to give the Wildcats a 54-51 lead heading into the final minute of the OT. But a clutch 3-pointer by Dijon Benton, his fourth of the game, tied it with :56.8 showing.
At the other end, North Little Rock went inside to Tidwell but Floyd was there as the center whirled toward the basket. Floyd absorbed a charge and the Hornets had a chance to take the lead again. And they worked a play nicely to get Benton free going toward the basket. But Tidwell loomed and Benton hesitated and was called for traveling. The Wildcats held for the last shot but Drake's triple would not fall and a second extra period was in the offing.
A turnaround jumper from the left block by Floyd drew first blood in the period. In turn, the Wildcats went to Tidwell who was double-teamed on the right block. When he turned, there was Floyd to take the hit and go to the floor. But instead of a charge, a blocking foul was pinned on Floyd. Tidwell, subsequently, sank both free throws to tie it again.
After a Bryant turnover, Bryles hit a free throw to put his team ahead by 1. Moments later, however, K-Ron Lairy knocked down a 3-point bomb to put the Hornets back on top 59-57.
But Bryles answered from long range and the Wildcats were back up 60-59.
Lairy tried to hit a running jumper in the lane but it refused to fall and the Hornets fouled Mike Malvin after he grabbed the carom with :22.3 on the clock. He converted both shots to make it a 3-point game.
Bryant needed a timeout to get the ball in against North Little Rock's bumping and grabbing press but when play resumed, they got it in and started working for a good shot. But a pass inside went astray with :09.7 to go.
On North Little Rock's inbounds play, they tried to pass deep only to have Benton, making like the defensive back he was for the Hornets football team, leap high to snag it at the top of the key on the Wildcats' end. He got the ball into the front court and fed Lairy who, under some pressure, fired up another 3 only to have the ball bounce high off the rim and fall harmlessly aside as the buzzer ending the game sounded.
Smith and Withers were incensed with the officiating after the game, though they made no official comment. Indeed, North Little Rock ratcheted up the defensive intensity in the second half after trailing the entire first half. There was hand-checking, shoulder-checking, and hip-checking and that was just on the perimeter as Smith protested that his guards handling the ball were being steered by the defenders. It seemed like one of those cases where, if a team fouls enough, the officials can't call all of them or the game would bog down into a free-throw shooting contest or the Wildcats would've run out of players. But, if that would've been unfair, it was just as unfair for the officiating to play into the strengths of one of the teams over the other.
In one instance, a Bryant player was pulled by the jersey by a North Little Rock defender on an inbounds play. That foul was called but, on the subsequent play, the very same thing occurred only this time, it was not called. Then there was the trip up the court with Bryant's Brandon Parish bringing the ball up the floor while being ridden like a quarter horse. When he made it into the forecourt, he cleared some room with a forearm and was called for an offensive foul.
The frustrated Smith mentioned a goal-tending call or two that didn't get made, as well.
The first half may have been the best of the season for the Hornets as they knocked down seven 3-pointers and connected on all seven of their free throws. After Tidwell started the game with a short jumper, the Hornets went on a 12-0 run that including 3's by Floyd, Lairy and Benton along with a three-point play by Benton who finished the night with 20 points and nine rebounds.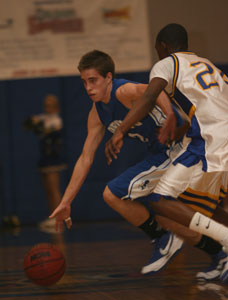 Malvin and Chris Campbell rallied North Little Rock but, when Lairy knocked down his second trey after a Floyd steal, Bryant led 15-6 going into the second period.
The lead reached 10 when Benton drained a 3 after a Tidwell bucket, making it 20-10.
North Little Rock crept back within 25-19 with 2:30 left in the half. That's when Benton drained a triple and was fouled, his free throw gave him a rare 4-point play and pushed the lead back to 10.
Tidwell answered but Floyd's three-point play and Lairy's floating jumper had the Hornets up 34-21 with :48 left. Tidwell hit a free throw with :38 showing but Lairy knocked down a pair and the Hornets took a 36-22 advantage to the locker room.
Then all the Hornets could muster in the third quarter offensively was two free throws by Floyd with 2:49 left. Amidst the evolving officiating, the Hornets went 0 for 5 from the field and committed six turnovers. North Little Rock whittled the lead to 38-36 going into the fourth quarter.
Benton connected on a pair of free throws early in the fourth to extend the margin. Tidwell fed Malvin for a bucket but Parish converted a one-and-one and, after Floyd took a charge defending Tidwell, he converted a free throw to make it 43-38.
Bryant still led 44-41 with four minutes left. Subsequently, back to back buckets inside by Tidwell gave North Little Rock its first lead since 2-0. Floyd, however, connected on a clutch bucket off a turnaround jumper to get the Hornets back in front.
The Wildcats had two chances to answer. Drake misfired but so did Benton. Jeremy Larry drove the right side of the lane but there was Parish to absorb the charge, setting up for it despite being shackled with four fouls already.
Parish hit a free throw with 1:57 left and, after Tidwell missed the front end of a one-and-one, Benton took a feed inside from Parish and somehow got a reverse layup to go down despite the flying arms of Tidwell and Malvin.
At the other end, Tidwell missed and when a held ball was called on the subsequent rebound, Bryant gained possession and a chance to increase the margin and whittle some clock. But Campbell made a steal and was fouled with 1:00 left. Benton had tried to set up to take a charge but, this time, was not rewarded for his positioning.
Though Campbell missed, a held ball allowed the Wildcats to retain possession, setting up the comeback that was fueled by Drake's heroics.
Larry finished with 11 points for North Little Rock which made its comeback despite the loss of senior point guard Omar Nichols who was injured early in the second half.
Benton paced the Hornets with his 20 points. Lairy finished with 17, Floyd 13.
The Hornets will try to salvage one last win on Tuesday, Feb. 23, on Senior Night with Little Rock Central on hand.
NORTH LITTLE ROCK 62, BRYANT 59, 2OTs
Score by quarters
BRYANT 15 21 2 13 3 5 — 59
No. Little Rock 6 16 14 15 3 8 — 62
BRYANT (7-18, 1-12) 59
Player fg-fgm ft-ftm reb. fls. pts.
o-d-t
Lairy 5-12 3-4 2-0 2 1 17
Parish 0-1 3-4 0-0 0 5 3
Renuard 0-4 0-0 0-5 5 5 0
Benton 6-13 4-4 2-7 9 3 20
Floyd 4-7 4-5 0-1 1 4 13
Butzlaff 1-2 2-2 2-1 3 5 4
Gattin 1-3 0-0 1-1 2 2 2
Rayburn 0-0 0-0 0-0 0 0 0
Stitch 0-0 0-0 0-0 0 0 0
Team rebs. 1-6 7
Totals 17-42 16-19 8-21 29 25 59
NORTH LITTLE ROCK (13-11, 9-4) 62
Player fg-fga ft-ftm reb. fls. pts.
o-d-t
Nichols 1-5 1-2 1-1 2 1 4
Larry 4-8 0-0 0-1 1 5 11
Drake 2-8 0-0 0-2 2 4 5
Malvin 3-6 2-3 3-7 10 2 8
Tidwell 9-13 4-8 9-4 13 3 22
Bryles 1-8 3-8 1-2 3 2 6
Campbell 2-3 2-3 2-1 3 4 6
Evans 0-0 0-0 0-0 0 0 0
Gibson 0-0 0-0 0-0 0 1 0
Team rebs. 0-1 1
Totals 22-51 12-24 14-19 33 17 62
Three-point field goals: Bryant 9-18 (Lairy 4-7, Benton 4-5, Floyd 1-2, Renuard 0-2, Gattin 0-2), North Little Rock 6-17 (Larry 3-3, Drake 1-7, Bryles 1-6, NIchols 1-1). Turnovers: Bryant 24, North Little Rock 19.