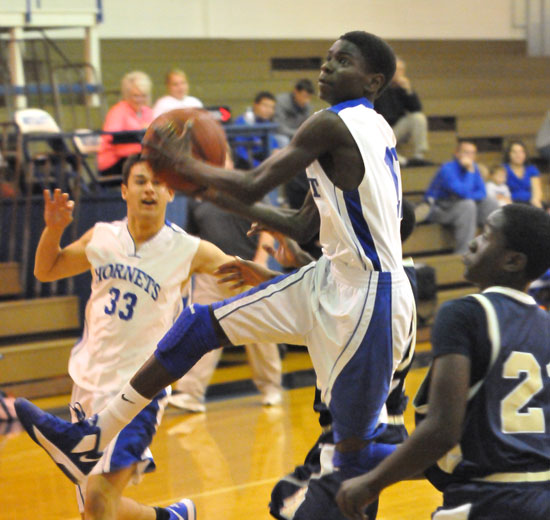 Photos by Kevin Nagle
The Bryant Hornets freshman team surged to an 11-3 lead by the end of the first quarter and[more] led by double-digits most of the way in a 42-30 win over the Pulaski Academy Junior Bruins Tuesday night.
The Hornets advance to the consolation bracket final of the Bryant Invitational Tournament against Lake Hamilton Thursday at 5 p.m., at the Bryant Middle School gym.
Bryant had 10 players contribute to the scoring, led by Cameron Murray's 10 points. Kris Croom finish with 7 and Kevin Hunt 5. Simeon Watson scored 4 points. Dagan Carden, Alex Oneal and Kvonte Thornton added 3 each with Evan Lee and Jaelyn Jones contributing 2 apiece and Clay Ingold 1.
Pulaski Academy's Tra Johnson finished with 12 to lead all scorers.
"Overall, we played much better," stated Hornets coach Mike Simmons. "We led by 12 to 15 most of the game and got to play a lot of people."
The Hornets led 20-12 at the half, 32-18 going into the fourth quarter.
"We still had too many unforced turnovers and, defensively, we're still having trouble stopping the ball," Simmons mentioned.
"We rebounded well, led by Cameron Murray," he added. "Kris Croom played a lot better and made some shots. Simeon Watson gave us a spark off the bench and played well."