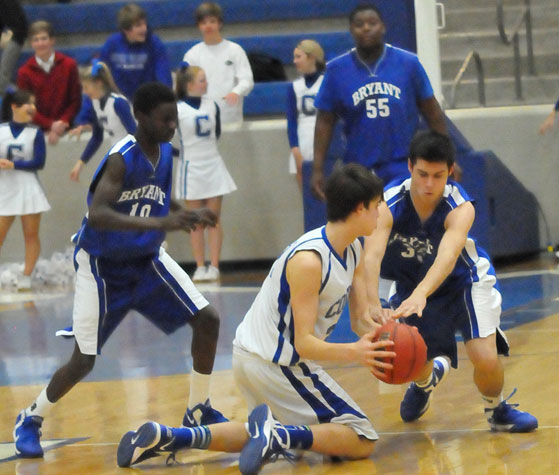 By Rob Patrick
Photos by Kevin Nagle
CONWAY — The Bryant Hornets freshman team was on a roll Thursday night at Bolding[more] Arena. Simeon Watson banked in a 3. Kevin Hunt drained another to make it 6-0. After Braylon Smith scored for the Conway White Junior Wampus Cats, Watson drove for a layup, was fouled and completed an old-fashioned three-point play. And when big Cameron Murray grabbed an offensive rebound and scored with 3:19 left in the opening quarter, it was 10-2.
Moments later, there was confusion that wound up in frustration for the Hornets. Conway White's Prentice Mullins drove inside and met up with Murray. A foul was called and the question was up in the air about which of the players, both key factors for their respective team, had picked up his second foul of the half. Which would end up going to the bench for a while?
At first, the official made the signal that a charging foul against the offensive player had been made. But then he held up the numbers for Murray, the defensive player. The Bryant players headed to the other end to go on offense but when the official was asked to clarify, the foul wound up being charged to Murray.
Of course, it wasn't that it was necessarily a bad call. Who knows with block-charge decisions? A ref can only trust his eyes and perception. But it was a key moment.
Murray, who doesn't always lead the team in scoring, nonetheless provides a hub to the Bryant offense, in particularly. He takes up space, gets good position and has a soft touch around the basket.
Because he's such a threat inside, the other team's defense has to collapse around him, which gives the Hornets' perimeter players room to operate and spot up; plus, when they penetrate, Murray's always there to dish to when defenders step in to help out.
So it was no small deal when Murray had to go to the bench for a spell, nor when Jaelynn Jones, who has developed into another target for a drive-and-dish plays in recent weeks, picked up his second foul then his third in short order.
And Mullins stayed in the game. He never picked up more than two fouls in the contest on his way to a game-high 20 points including 12 of 15 from the free throw line in a 43-37 win for Conway White.
By the time the first quarter was over, Bryant's lead was 10-5. The Cats got the first basket of the second quarter answered with a driving jumper up the baseline by Bryant's Evan Lee.
Before the Hornets could score again, however, Conway White led 15-12.
Bryant made a bid to turn the momentum back their way when Kris Croom drained a triple and Hunt turned into a three-point play on a drive to the rack and Bryant held an 18-17 lead at the half.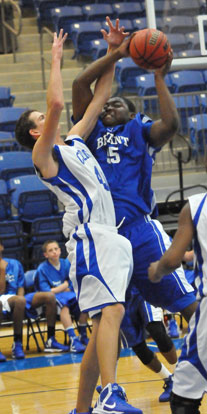 The Cats, however, responded with a 10-2 surge to start the second half with Mullins scoring 6 points including a run-capping three-point play. Suddenly down 27-20, the Hornets rallied and kept it close the rest of the way but could never gain the lead again.
Murray, who had the lone Bryant basket during that stretch, hit two free throws after being fouled on a follow shot. Croom and Watson forced a turnover that Croom cashed in with a 3 to cut the lead to 27-25 but Mullins made a steal and layup right before the end of the half to put his team up by 4 going into the final stanza.
Croom hit two free throws to start the third quarter but Mullins hit a pair and Smith scored to make it 33-27. Bryant stayed close with a nice spin move and scoop by Murray and two free throws from Lee but the resulting 2-point difference was as close as the Hornets could get.
With 1:13 left, thanks to a 3 by Croom and a free throw by Murray, Bryant was within 39-35. And, after Mullins hit a free throw, the Hornets had three chances to cut the margin before Smith hit a layup off an inbounds play with :20 left, putting the game out of reach.
Croom led Bryant with 13 points. Murray added 9, Hunt 6, Watson 5 and Lee 4.
It was a key game for the Hornets in the Central Arkansas Junior High Conference. They fell to 1-3 instead of improving to 2-2 which would've put them ahead of Conway White in the standings and even in the loss column with Lake Hamilton and Conway Blue.
Benton is unbeaten in the conference and North Little Rock has one loss. Bryant hosts Cabot South on Monday, Jan. 28, and North Little Rock on Jan. 31.
CONWAY WHITE 43, BRYANT 37
Score by quarters
BRYANT 10 8 7 12 — 37
Conway White 5 12 12 14 — 43
JUNIOR HORNETS 37
Watson 2-4 0-1 5, Hunt 2-8 1-1 6, Croom 4-14 2-2 13, Ingold 0-1 0-0 0, Murray 3-7 3-4 9, Carden 0-1 0-0 0, Jae.Jones 0-0 0-0 0, Lee 1-1 2-2 4, Oneal 0-0 0-0 0, Harris 0-0 0-0 0. Totals 12-36 8-10 37.
JUNIOR WAMPUS CATS 43
Mullins 4-15 12-15 20, Smith 3-5 3-4 9, Cahill 0-2 0-0 0, Wardlow 2-6 0-0 4, Booher 3-8 0-1 6, Browers 0-0 0-0 0, Jak.Jones 0-0 0-0 0, Norris 1-1 0-0 2, Moore 0-2 2-2 2. Totals 13-39 17-22 43.
Three-point field goals: Bryant 5-14 (Croom 3-6, Hunt 1-4, Watson 1-3, Carden 0-1), Conway White 0-3 (Mullins 0-2, Cahill 0-1). Rebounds: Bryant 20 (Murray 8, Hunt 4), Conway White 31 (Booher 9, Mullins 6). Turnovers: Bryant 18, Conway White 15. Team fouls: Bryant 20, Conway White 10. Fouled out: Bryant, Jae.Jones.