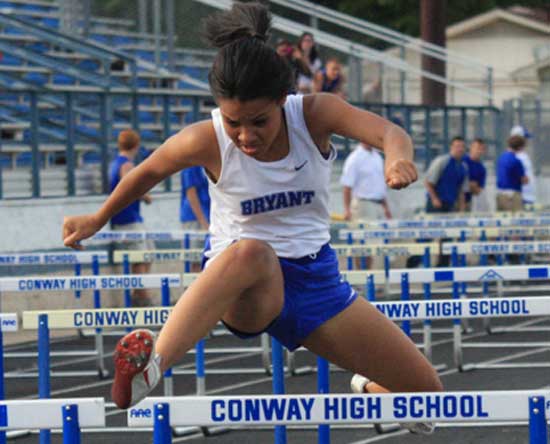 Photos courtesy of Carla Thomas
CONWAY — Sophomore Alexis Royal and junior Brianna White earned all-State honors but the Bryant Lady Hornets' hopes[more] to finish near the top of the 16-team field at the Class 7A State track championships on Thursday did not develop.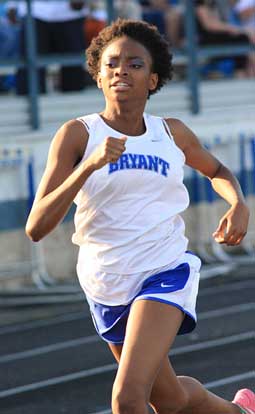 With 36 points, the Lady Hornets finished eighth.
Incredibly, Fayetteville's Sydney Conley, daughter of Olympic medal winner Mike Conley and a mom that ran track in college, and sister of NBA star Mike Conley, Jr., amassed 46 points by herself at the meet. She led the Fayetteville Lady Bulldogs to the title with 143 points. Bentonville finished second with 113.
"We had some decent individual performances, but we just did not score well as a team," commented Lady Hornets head coach Danny Westbrook. "I thought going into the meet we could be in the top four teams, but we just did not generate the points to make that happen."
Royal actually achieved all-State status in two events, finishing third in the triple jump, covering 36'3" and third in the 100 meter hurdles with a time of 15.7.
"I think Alexis Royal has the best shot of anybody on the team to qualify for the Meet of Champs next week at Lake Hamilton," Westbrook mentioned. "Her performance in the triple jump and the 100-meter hurdles could get her an invitation."
White garnered all-State honors by finishing third in the 100-meter dash with a time of 12.9.
Another highlight for the Lady Hornets was a personal best for Lauren Magneson in the high jump. She cleared 5 feet to take fifth place.
In the long jump, White took fourth place (17'1") and Royal added a seventh place with a jump of 16'7". Jade Hampton contributed an eighth-place finish in the 100 hurdles, turning in a time of 17.6.
In the distance events, Stacy Emmerling finished seventh in the 800-meter run with a time of 2:31.9. Hannah Raney took seventh in the 1600 with a time of 5:45.5.
The Lady Hornets' 1600-meter relay team of Jade Hampton, Candice Ball, Kiana Thomas, and Emmerling finished eighth place with a time of 4:31.9. The quartet of Stacie Waite, Raney, Lauren Stiles, and Emmerling also took eighth in the 3200 relay with a time of 11:06.