By Rob Patrick
Photos by Rick Nation
When a pair of pitchers are dealing like Bryant junior Peyton Jenkins and Sylvan Hills freshman Michelle Sorenson were[more] dealing at the Lady Hornets' field on Friday, it usually comes down to the little things:
Maybe an error or a hit-robbing defensive play, a little extra hustle at a key moment, a 3-2 pitch that doesn't go your way or that one hit at just the right time.
For example, on Friday, Sorenson had retired the first seven batters she faced, four on strikeouts. Bryant's Carly Yazza came to the plate and, on an 0-1 count, tried a bunt. Sylvan Hills third baseman Darrin Flippo came charging in aggressively as Yazza sprinted towards first. Flippo fielded the ball cleanly and fired to first where her teammate Daniell Robbins was covering from her position at second base. The throw was into the baseline a bit but Robbins didn't feel comfortable extending her arm into Yazza's path. She got a glove on the throw but it deflected off of it and down the right-field line.
The Lady Hornets had their first base-runner and it was on a miscue.
Katy Stillman followed with a tap back to Sorenson, who turned and threw to second for a force. Shortstop Jeana Canady took the throw and fired toward first in hopes of turning an inning-ending doubleplay.
But Stlllman was hustling and beat the relay.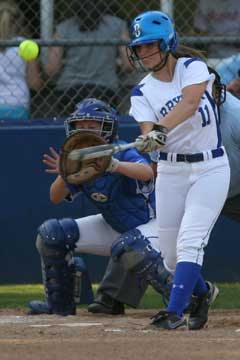 That not only allowed the inning to continue but it turned the line-up over, bringing up lead-off hitter Jenna Bruick. And when Stillman was able to advance on a wild pitch, she was in scoring position.
Sorenson got a strike away from getting out of it but then Bruick slapped a looper over the shortstop's head for an single that snapped the scoreless tie.
And, behind the one-hit pitching of Jenkins, the backing of an errorless game on defense that featured a trio of sparkling plays, the Lady Hornets wound up with a 2-0 win.
"I knew if we would make the routine plays, stay in the box and stay patient, eventually — I didn't think we'd run rule them or anything like that — but I really thought one, two or three runs would probably win the game," stated Lady Hornets coach Debbie Clark. "We had to bunt and we had to hit-and-run to make something happen."
The hit-and-run was key to Bryant's second run. In the bottom of the sixth, Jenkins earned a walk. Courtesy runner Brittney Ball was forced at second on Kayla Sory's grounder to short but, again, Sory hustled to beat the relay. With Cassiday Wilson at the plate, Clark had Sory on the run on an 0-1 pitch. Wilson connected for a shot that got down in left-center and Sory scored all the way from first on the double.
That two-bagger for Wilson along with Bruick's single were two of only three hits the Lady Hornets managed against Sorenson who struck out seven and walked four. (The other hit was a lead-off single up the middle by Jessie Taylor in the fourth.) Jenkins retired 12 of the first 13 batters she faced, issuing only a walk to Brittney Hubbard in the second. She advanced on a wild pitch then Canady tried to get her to third with a sacrifice bunt. But Bryant's McKenzie Rice charged from third and made a diving catch on the little pop just before it hit the ground at the line.
Jenkins then ended the inning with the fifth of her 14 strikeouts in the game.
Hubbard actually wound up being the lone Lady Bears batter to reach base and she did it all three plate appearances. In the seventh, she was hit by a 1-2 pitch but, in the fifth, she put up a battle with Jenkins that required 15 pitches. Hubbard fouled off nine two-strike deliveries before grounding one inside the third base bag for a well-earned double, her team's only hit.
Wilson and McKenzie Rice (again) both turned in fine defensive plays in the sixth to help out.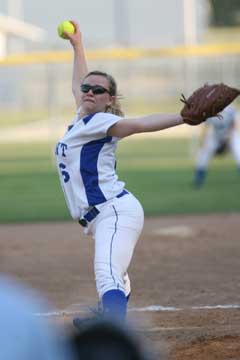 "It was big for us, after a playing a game (Thursday night) where we scored 14 runs in one inning and the starters come out, knowing what we were going to face tonight," commented Clark. "That's what we have to do. When it comes State Tournament time, you could face pitchers like (Sorenson). When we played in the Tournament of Champs, every game we saw, we had to be up. This is what we need to see."
Now 13-3 overall, the Lady Hornets return to play in the 7A/6A-Central Conference on Monday with a doubleheader against Mount St. Mary Academy. With rainouts that postponed games in weeks past, Bryant will be busy the next week. Along with Mount, the Lady Hornets play Cabot on the road on Tuesday then host rival North Little Rock on Thursday.