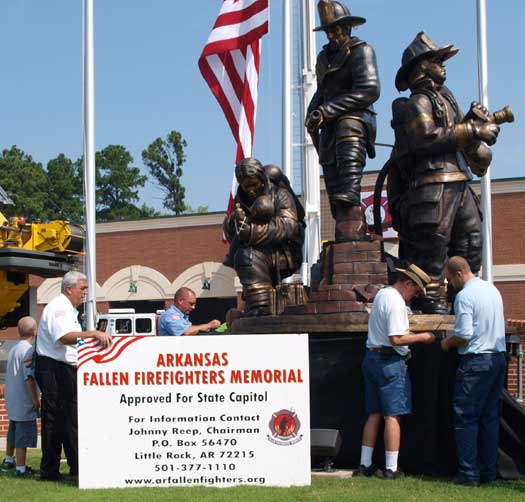 By LANA CLIFTON
Around 10:15 a.m. on Saturday, Aug. 15, a procession entered Bryant. Escorted by police cars and fire trucks, the center statue of the Arkansas Fallen Firefighters' Memorial made its way down Reynolds Road on the back of a heavy hauler. The procession turned down Roya Lane and stopped in front of the Bryant Public Safety Building.
Representatives from area fire departments, including Bryant, Benton, Salem, Sardis, Turtle Creek, Shaw and Haskell, were on hand to assist in setting up the temporary resting place for the statue and to honor the memory of the fallen firefighters represented.[more]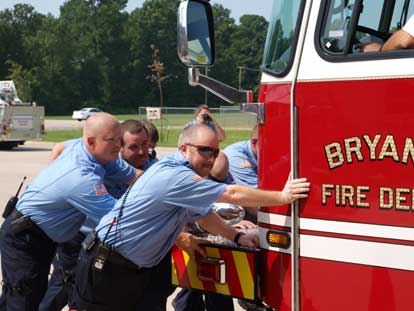 Using a crane to swing the 12-foot high bronze statue into place, firefighters and representatives from the Arkansas Fallen Firefighter's Memorial organization placed the sculpture on a platform in front of the bank of flags on the lawn of the Public Safety Building. It will remain there until Aug. 29 and will be available for public viewing during that time. The statue will eventually come to rest in a memorial plaza on the west side of the Arkansas Capital Building.
Fundraising is still ongoing for the approximately $1.5 million memorial project. Over 75 percent of that amount has been raised. Opportunities to donate to the cause or attend fundraising events are listed on the memorial's website at www.arfallenfirefighters.org.
The statue features the likenesses of four different firefighters posed in the act of service. The memorial plaza where it will be permanently placed will honor Arkansas firefighters who have lost their lives in the line of duty.
After an introduction by Bryant Fire Chief Randy Cox and invocation by the chaplain of the fire department, Mayor Larry Mitchell spoke to the gathering of public servants and citizens. He said Bryant was honored to be on the list of cities to host the statue. He also expressed appreciation for firefighters who risk their lives to protect citizens.
When the ceremony for the statue concluded, Chief Cox announced the dedication of a new fire engine. The 2009 Typhoon Engine was acquired at the end of June and purchased partly with a grant. The new truck features a 425 horsepower Cummins engine and 750 gallon water tank.
Following tradition, the Bryant firefighters gathered in a circle to pray, then pushed the engine backwards into its bay at the firehouse.