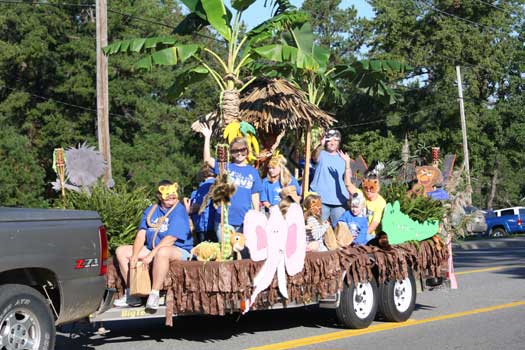 Landers Auto of Saline County is adding new spice to Bryant's 22nd Annual Fall Fest on Saturday, Sept. 26 with a Biggest Baddest ATV contest.
The contest will be held at Mills Park in Bryant in the Outdoor Adventure Area. The grand prize is $300. Registration is required in advance and forms are available online at www.bryant-ar.comThe contest is just one of several new attractions. Some were added in by the Bryant Area Chamber of Commerce's Fall Fest Committee and some were added by booth registrants who have decided to dial up the excitement at Fall Fest.[more]
New this year invited by the committee: a Joe Dirt contest to add to the Hannah Montana contest (so both boys and girls can compete) both sponsored by Bryant Music Center; an archery contest; a geocaching contest sponsored by Bryant Parks Department; a Sports Pen within the tennis courts and a pie and cake auction for everyone (not just politicians) New this year from booth registrants: a Karaoke bus by Brand New Church; a Smash the Clunker by Get Tow'd; an electronic games vehicle by Best Buy; an arborist (tree specialist) from First Electric.
"We'll still have the other favorites – kids fishing contest, Boy Scout's zip line, car show, parade, kidzland, hula hoop contest, baby crawl, hot dog eating contest, money in the hay by Centennial Bank, birds of prey from the zoo by Metropolitan Bank — but we wanted to add something new and fresh and, apparently, our booth holders are doing that too," said Fall Fest Chairman Joe Wishard.
The committee notes having a lot of community and school group participation is what makes the festival a large success. "All the elementary schools put together a float. Typically the cheerleaders and the dance team perform. The band marches in the parade. It is a good event for positive interaction between the adults in the community and the kids in the community. That's the kind of contribution it makes to the 'home town' feel of the community," noted Rae Ann Fields, chamber director. "This is one of the building blocks that makes us a top 100 small town," she added making reference to the CNN Money Magazine designation from last month when Bryant was named the 86th most livable small town in the nation.
The festival drew 14,000 people into Mills Park last year and the Fall Fest Committee believes the new events have the potential to bring it to 16,000 this year.
Booth space is $60 for Chamber members and $85 for non members for a 10×10 business or arts and crafts booth. Call the Chamber at 847-4702 for a layout of the park and a map showing which spaces are still available.
Booth spaces are going quickly. Food vendors are required to fill out a separate form and have a different fee structure, so be sure to mention if you want to be a food vendor so that you will be registered correctly.
Political candidates are reminded that they are asked to pay a booth fee like all others at the park for display of material or handing out literature.