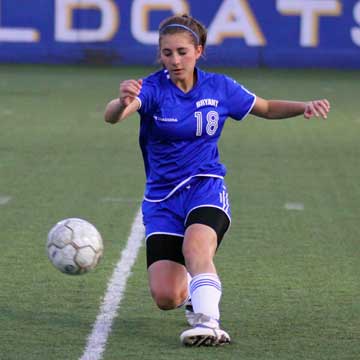 NORTH LITTLE ROCK, Ark. — The Bryant Lady Hornets locked down the No. 5 seed from the 7A-Central Conference to the Class 7A State Tournament in Cabot with a 1-0 win over the North Little Rock Lady Cats on Thursday.
It was the Lady Hornets' fifth consecutive shutout and eighth of the year as they improved to 11-6 overall and 5-6 in league play going into the final week of the regular season.
Bryant visits Little Rock Central, one of three teams vying for the conference championship (along with Conway and Mount St. Mary's), on Monday, April 20, then host the Lady Tigers on Senior Night on Tuesday before finishing up at Cabot on Thursday, April 23.
Katie Moore accounted for the long goal of the evening, scoring off the ricochet from a shot by teammate Amber Moskow midway through the second half.[more]
Head coach Doug Maxwell said he figured it would be a tough match after the two teams battled just a few days earlier in the finals of the Northeast Arkansas Invitational Tournament in Jonesboro with Bryant claiming the title with a 2-0 win.
"They were doing a good job of dropping five people back and played a solid defensive game against us," he stated. "I had a feeling they would since we just saw them last weekend. We knew it was going to come down to them and us battling it out for the fifth seed. They did a good job of countering and keeping us out of the back of the net."
Still, the Lady Hornets produced 19 shots on goal to just four for the Lady Cats.
"We're playing well," emphasized Maxwell. "Our team defense is playing well. We really controlled the tempo of the game. We had some good looks. We got that one goal inside the 6 by Katie Moore and we were able to sustain that and hold it.
"I'm pleased with the way we're playing," he added. "But it's a little nerve-wracking with these 1-0 games."