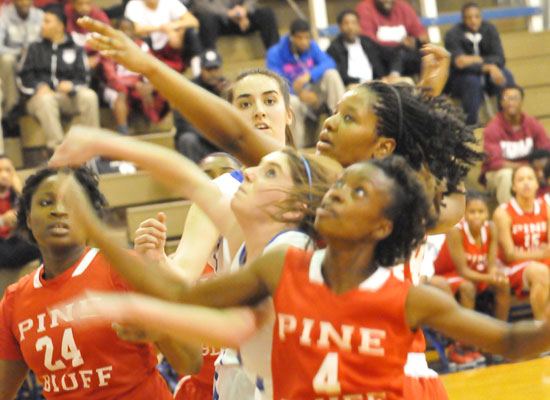 By Rob Patrick
Photos by Rick Nation and Kevin Nagle
It just happened to work out this year, the first back in the South Conference for Bryant since[more] being reassigned to the Central in 2002, that the Lady Hornets opened both rounds of conference play against the league's top two teams.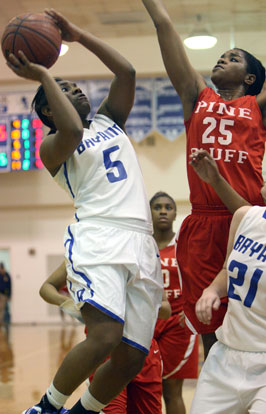 The first time around, the Lady Hornets absorbed on of their biggest losses of the year to the rival Benton Lady Panthers, who still haven't lost a conference game. Then they took on the Pine Bluff Fillies and had a win taken from their grasp by a last-second shot. The Fillies have only lost to Benton since then.
The second round of the league slate began last Tuesday. This time, the Lady Hornets had a shot to win at the buzzer against the Lady Panthers, suffering a 2-point setback. And, on Friday, the Fillies came to Bryant and broke open a close game late, winning 52-43 and keeping the heat on Benton, staying just one game behind in the standings.
Through the rest of their conference schedule, based on the first round results, the Lady Hornets should have a chance to win in every outing, making a push to move up in the seedings for the Class 7A State Tournament. They'll start the stretch run at home on Tuesday against the winless Lady War Eagles of Little Rock J.A. Fair.
Though Bryant never led Friday's game, the Fillies, who improved to 18-4 overall and 7-1 in South Conference play, couldn't break the game open. Every time they'd threaten to pile up a lead, the Lady Hornets rallied.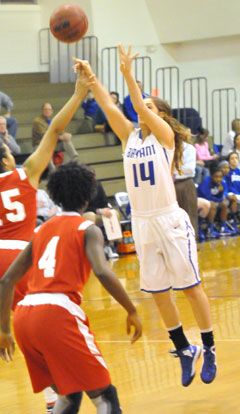 Bryant was actually down just 37-33 with 5:20 left in the game. Dezerea Duckworth had just scored off an offensive rebound and it felt like the momentum was swinging.
But Pine Bluff's junior guard Ajia Richardson popped a 3-pointer to pad the lead. Courtney Davidson drove for an answering bucket for Bryant but Richardson dropped another 3-pointer and, after a Lady Hornets' miss, sophomore Jasmyn Eckermann drove for a layup that made it a 10-point lead.
Bryant's Logan Davis drove for a bucket and sophomore Jayla Anderson made a steal to give her team a chance to cut it to 5 of 6. But Richardson's steal and layup took a bit of the starch out of the Lady Hornets' comeback hopes. The Fillies hit just enough free throws (5 of 10) in the final three minutes to hang on for the win.
Richardson led all scorers with 19 points. Eckermann finished with 12 for Pine Bluff.
Bryant was paced by Duckworth's 16. Davis finished with 13. Davidson, despite early foul trouble, finished with 12 including 10 in the second half. Whitney Meyer contributed two free throws to complete the Lady Hornets' scoring.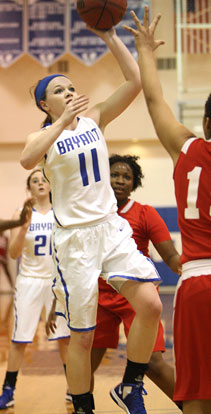 "I just didn't feel like, except for one little spurt in the third, that we were ever in any kind of rhythm on offense," stated Bryant coach Brad Matthews. "Everything was kind of forced and we struggled to get them."
He gave the Fillies' defense credit.
"They're athletic and physical," the coach pointed out. "They're a good team and I know they had a lot to do with that.
"We've just got to execute better from start to finish," he continued. "Everything works better when you make shots — defense, rebounding and all that stuff. We've just got to do a better job moving forward, making sure we get into an offensive rhythm and make shots."
The third-quarter run that the Matthews referred to started when the Lady Hornets trailed 28-18 early. The Fillies had closed the first half with a 7-2 run to add to a 3-point lead. And by scoring the first basket of the second half, the lead had reached 10.
Meyer pulled down an offensive rebound and fed Davidson for 2 inside but Eckermann answered to make it 28-18.
A flurry of turnovers followed before Duckworth got room to go to the hoop and score. Pine Bluff's Johniece Tate missed and Davis swished a 3. Richardson couldn't get a shot to go and Davis found the range with another triple as the Lady Hornets trimmed the lead to 28-26.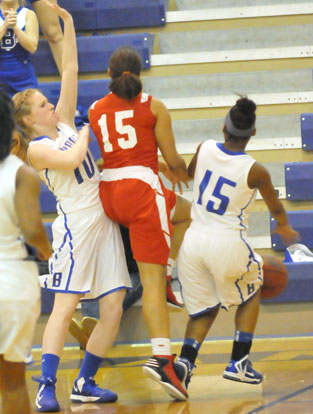 After Tate and Meyer traded free throws, however, Pine Bluff closed out the quarter with a 6-2 mini-run interrupted only by a drive by Davidson. It was 35-29 going into the final stanza. The teams traded free throws and Duckworth scored then Richardson went on the game-breaking spree.
The Fillies led 16-7 at the end of the first quarter but Davis hit a driving jumper and a free throw. And when April Morgan missed the front end of two bonus opportunities, Anderson fed Duckworth for a layup. A steal and layup by Duckworth had the Lady Hornets within 17-14.
Eckermann managed Pine Bluff's first points of the second quarter with 2:18 left. Duckworth hit a pair of free throws then the Fillies began the surge that produced their first double-digit lead.

FILLIES 52, LADY HORNETS 43
Score by quarters
Pine Bluff 16 8 11 17 — 52
BRYANT 7 9 13 14 — 43
FILLES (18-4, 7-1) 52
Player fg-fga ft-fta reb fls pts
o-d-t
Broady 2-5 2-5 2-2 4 3 6
Richardson8-17 0-0 0-3 3 2 19
Eckermann5-6 2-7 0-4 4 2 12
Tate 0-3 2-4 1-1 2 2 2
Sergeant 1-2 0-0 0-2 2 3 2
Taylor 0-1 1-2 0-0 0 0 1
Moore 1-3 4-6 6-4 10 4 6
Williams 1-2 0-0 0-0 0 0 3
Morgan 0-0 1-3 1-2 3 2 1
Team 0-3 3
Totals 18-49 12-27 10-21 31 18 52
LADY HORNETS (9-14, 3-6) 43
Player fg-fga ft-fta reb fls pts
o-d-t
Duckworth 6-15 4-4 3-4 7 3 16
Davis 5-17 1-2 0-2 2 2 13
Weaver 0-4 0-0 1-2 3 1 0
Davidson 3-11 6-6 4-4 8 3 12
Meyer 0-0 2-4 3-4 7 3 2
Anderson 0-0 0-0 0-1 1 4 0
Smith 0-0 0-0 0-2 2 2 0
Scarlett 0-0 0-0 0-0 0 2 0
Murphy 0-0 0-1 1-0 1 0 0
Team 2-3 5
Totals 14-47 13-17 14-22 36 20 43
Three-point field goals: Pine Bluff 4-6 (Richardson 3-4, Williams 1-1, Broady 0-1), Bryant 2-15 (Davis 2-8, Duckworth 0-4, Weaver 0-3). Turnovers: Pine Bluff 13, Bryant 13.