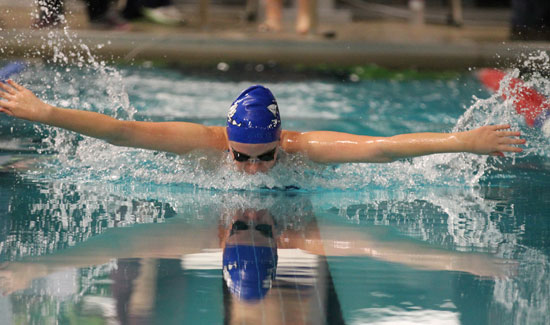 It was a two-team race for the top between the Conway Lady Wampus Cats and[more] the Bryant Lady Hornets in a swimming and diving meet host by Benton High School at Bishop Park on Thursday.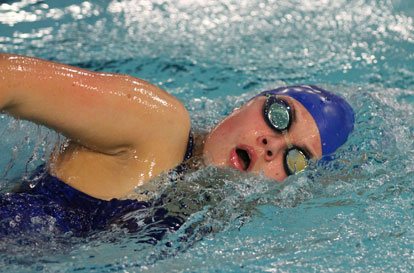 Lindsey Butler, Kalee Jackson and the Lady Hornets 400 yard relay team each earned first-place finishes but Conway managed to win the team title with 494.5 points to Bryant's 450.5. Little Rock Christian was a distant third with 198 points followed by Vilonia (190), Benton (113), Arkansas Baptist (47), Camden Fairview (40), Little Rock Parkview (24) and Carlisle (16).
The Lady Hornets benefitted from the return to health of may of their swimmers, contributing to the depth that allowed them to score in all but one event.
Butler won the 100 yard backstroke in a time of 1:04.05. She also finished second in the 100 yard butterfly with a time of 1:07.66.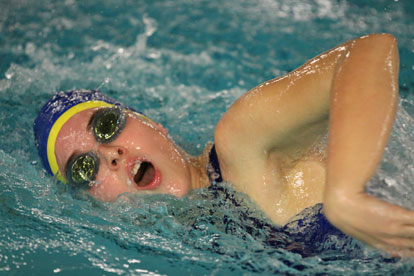 Jackson won the 500 yard freestyle with a time of 6:21.21 to go with a fifth place finish in the 200 free (2:20.87).
Both swimmers contributed to the first-place relay effort, joining Katie Higgs and Julianna Shelton on a 4:20.34 clocking.
Butler and Higgs teamed up with Libby Thompson and Reagan Smith to finish second in the 200 medley relay (2:06.50) while Shelton, Thompson, Smith and Jackson combined on a 2:00.32 to place third in the 200 free relay.
Bryant amassed over 50 points in each of four events. In the 500 free, the quartet of Jackson, Devin Hester (fourth in 7:08.77), Mikayla Douglas (seventh in 7:26.49) and Jordan Tarvin (eighth in 7:29.88) produced 58 points.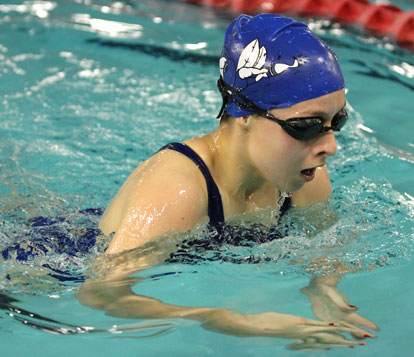 The contingent in the 100 butterfly accounted for 57 points with Higgs (third in 1:08.81), Tiffany Robinson (sixth in 1:24.17) and Lauren Wood (eighth, 1:39.98) scoring along with Butler.
Joining Butler in the 100 back was Higgs (third in 1:09.25), Mollie Robinson (seventh in 1:25.34) and Deidre Reeves (12th in 1:45.82), accounting for 53 points.
In the 200 individual medley, the Lady Hornets added 50 points with Smith (2:58.40), Bailey Peairson (2:59.44), Shelton (2:59.85) and Catarena Falco (3:29.71) finishing fifth through eighth, respectively.
Jackson led the way to 30 points in the 200 free. Hester was 10th (2:39.97), Douglas 12th (2:47.32) and Tarvin 13th (2:48.75).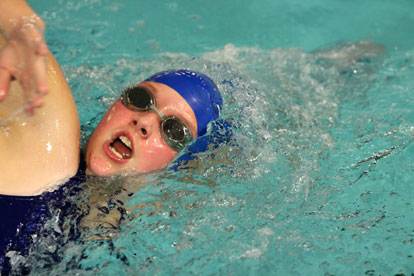 Megan Curry and Kaitlin Howey finished fourth and fifth, respectively, in the one-meter dive competition. Curry's score was 87.40 and Howey's was 64.45.
Thompson and White each scored in the 50 free. Thompson was seventh in 30.03, White 12th in 31.16.
Thompson also turned in ninth-place points in the 100 breast stroke with a time of 1:29.32. Tiffany Robinson was 11th (1:34.52), Courtney Wells 13th (1:37.61) and Grace Byers 14th (1:38.10).
Smith's 1:08.63 placed ninth in the 100 free. Shelton (10th, 1:11.34), White (12th, 1:12.61) and Mollie Robinson (14th, 1:12.63) contributed points in the event as well.
The Lady Hornets are scheduled to compete at a meet at UALR on Saturday, Feb. 2, before hosting the district swim meet on Friday, Feb. 8.