Editor's note: This is a regular feature profiling senior athletes at Bryant High School.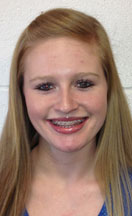 NAME: Kristen Scarlett
PARENTS: Mark and Karen Scarlett
SIBLINGS: I have one sister. Her name is Kelsi. And a brother named Cameron. Kelsi is 14 and Cameron is 10.
FAVORITE SUBJECT IN SCHOOL: Math
FAVORITE SPARE TIME ACTIVITY: I like to go shopping and spend times with friends and family, and babysit.
FAVORITE FOOD: Steak
FAVORITE MUSIC ARTIST OR GROUP: Chris Tomlin[more]
FAVORITE MOVIE: Courageous
FAVORITE TV SHOW: Dance Moms
WHAT WAS YOUR FAVORITE TOY AS A KID? Baby dolls
WHAT ARE YOUR PLANS AFTER HIGH SCHOOL? I plan on going to Arkansas State University and pursuing a career in early childhood education or speech pathology.
OTHER THAN YOUR PARENTS, WHO'S HAD THE BIGGEST INFLUENCE ON YOUR LIFE? HOW? Probably my Granny. She's just always been there for me. She comes to all my games and performances, all the things I've been involved in. She's one of those people that I strive to be like through her character and her faith.
WHAT'S YOUR FAVORITE THING ABOUT BASKETBALL? Being with all my teammates and the games, the atmosphere of playing the game.
POSITION: Forward
WHAT DO YOU FEEL LIKE YOUR RESPONSIBILITIES ARE? To block out my girl and rebound, and to play my role, play defense.
WHAT DO YOU THINK OF THE SEASON SO FAR? I think we've done well. We have things that we can improve on. We need to start the games better. I was hoping it would go a little bit differently but I'm happy with what we've done.
WHAT'S BEEN THE HIGHLIGHT TO THE SEASON SO FAR? Probably beating West Memphis. That was a hard game.
WHAT'S IT GOING TO TAKE FOR THE TEAM TO BE SUCCESSFUL THE REST OF THE SEASON? Start the games strong and not start out behind because we've had to come from behind a lot and it's hard. So starting out strong and staying strong the whole game.
TALK ABOUT YOUR GAME NOW; WHAT ARE YOU MOST CONFIDENT IN YOUR ABILITY TO DO? In the fact that I can fill my role whenever I'm asked to do something whether on defense and hopefully maybe score a little more than I have.
WHAT DO YOU WORK HARDEST TO IMPROVE ON IN PRACTICE? My defense and blocking out; shooting, as well.
WHEN YOU'RE THROUGH PLAYING BASKETBALL AT BRYANT HIGH SCHOOL, WHAT DO YOU THINK YOU'LL LOOK BACK AND REMEMBER MOST FONDLY ABOUT THE EXPERIENCE? The relationships I developed with everybody here and just the fun that we had and getting to play and be with everybody else.