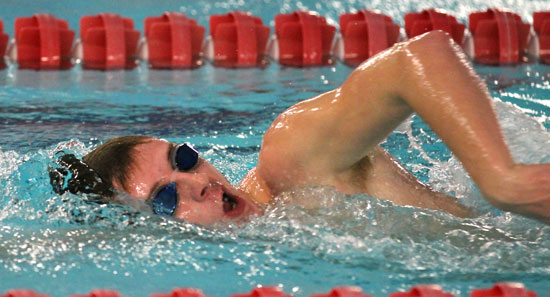 The Bryant Hornets, gradually mending back to health after a bout with the flu[more] on the team, finished second only to the Conway Wampus Cats at a swimming and diving meet hosted by Benton High School at the Bishop Park aquatic center on Thursday.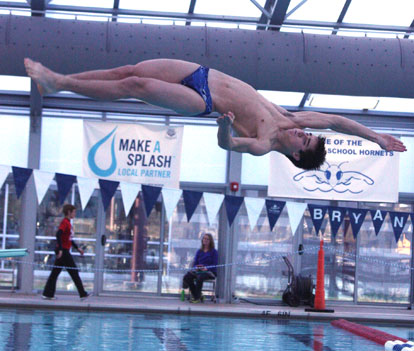 The Hornets were once again paced by Minki Kang who won two individual events and contributed to a first-place relay effort and a second-place relay finish. Justin Combs added a second place in the diving competition and Ray Weldon turned in a second-place performance in the 100 breast stroke.
Conway finished with 507 points with Bryant second with 346. Little Rock Parkview was a distant third, tying with Benton with 185 points. Arkansas Baptist was fifth with 168 followed by Lonoke (91), Camden Fairview (32), Little Rock Christian (24) and Vilonia (21).
The Hornets were scheduled to swim again on Saturday at UALR in a final tune-up before hosting the District meet at Bishop on Friday, Feb. 8.
Kang won the 500 yard freestyle in a time of 4:51.77 and the 200 individual medley in 2:04.58.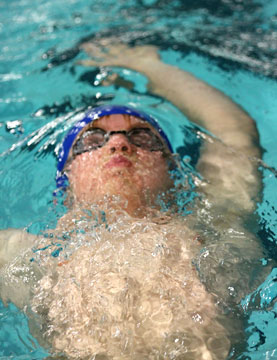 In the former, Nick Hoffpauir added a fourth-place finish in 6:24.65 and, in the latter, Weldon was fifth in 2:31.19 and Jim Dellorto seventh in 2:39.17.
The winning relay came in the 400 free with Kang anchoring behind Dellorto, Hoffpauir and Casey Ball. The quartet finished in 3:50.84.
In the 200 medley relay, Casey Ball and younger brother Andrew teamed with Weldon and Kang on a 1:56.85 to take second.
Weldon's second in the 100 breast came in a time of 1:17.12 with Andrew Ball close behind with a 1:17.76, good for fourth-place points.
Combs earned a score of 149.10 to finish second in the one-meter dive. Scott Mead was fourth (114.40) and Lucas Reitenger fifth (101.15) as the trio produced 46 points in the event.
Casey Ball was third in the 200 free with a time of 2:17.75 and fourth in the 100 backstroke (1:09.84). Adding points in the latter event were Scott Mead (ninth, 1:18.98) and Austin Sanchez (1:40.11).
Reitenger, Dellorto, Weldon and Andrew Ball teamed up on a 1:46.88 clocking in the 200 free relay, earning a fourth-place finish. Dellorto also picked up fifth-place points in the 100 butterfly (1:13.78) just ahead of Hoffpauir, who was sixth in 1:16.93.
To complete the Hornets' scoring, Reitenger finished 12th and Combs 15th in the 50 free. Reitenger finished in 28.63, Combs in 29.83. Sanchez picked up points for his finish in the 100 free. His 1:18.88 was 17th.