Christa Finney, who has served as the athletic trainer for Bryant athletics since 2006, was named the 2016 Athletic Trainer of the Year at the 30th anniversary of the Arkansas Athletic Trainers' Association Clinical Symposia and annual meeting on Saturday, April 23, at Arkansas Children's Hospital.
Finney has worked for OrthoArkansas Orthopedics & Sports Medicine for 16 years, providing medical coverage to Little Rock Catholic, Arkansas Baptist Prep and Little Rock Episcopal Collegiate before becoming head athletic trainer at Bryant and will become a full-time employee of the Bryant School District this July.
She was nominated for the award by Patti Webb, the athletic trainer at Alma High School; chosen by the AATA Honors and Awards Committee; and introduced by Bryant Athletic Director Mike Lee. Finney will be honored in the AATA section of the Arkansas Sports Hall of Fame at Verizon Arena for the next year and recognized at the annual Arkansas High School Coaches Association All-Star Football game in June.
"When I think about all the athletic trainers in the state, there are more than I can count who also deserve this award," Finney said. "When it comes down to it, we are all working hard as the 'team behind the team' to keep our athletes healthy and doing what they love, so I am very humbled that I was chosen out of such an amazing group of healthcare professionals.
"But even more so than this award, my biggest honor (and I still get choked up about this) comes from that fact that I know of at least six graduating athletes who will be majoring in Athletic Training, and have three former BHS athletes who have graduated or are graduating from an accredited Athletic Training program," she noted. "I tell them all from the start that you have to have a passion for this career. There are long hours, ever-changing schedules, crazy injuries, and so many details behind-the-scenes — from paperwork to rehab all the way to legislative efforts — that we manage that nobody ever sees. But we do it for these kids and hope that we're making a difference by being an advocate in their athletic healthcare."
Finney wrote and restructured the Bryant School District Emergency Action Plan (EAP), which as been adopted by the Bryant Fire Department, the Bryant Police Department, and MedTran EMS. She started the initial drive to obtain Automated External Defibrillators (AEDs) for the school district.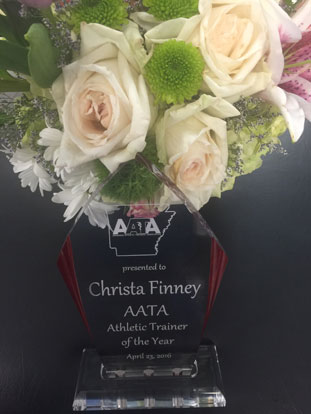 Annually, Finney has served as a contract AT for CheerSport, a traveling All-Star Competitive Cheer and Dance company with Varsity; as well as providing in-service for Bryant School District coaches. She's been a yearly speaker at OrthoArkansas Coaches Clinic.
In addition, she's served on the AATA Executive Board as Recording Secretary since 2007 and served five years on the Public Relations Committee. For 12 years, she's served on the AHSCA all-star committee of the AATA and provided medical coverage for the AHSCA all-star games. She also participated in several legislative task force sessions toward Act 1214 of 2011 as well as current bills in committee and interim study.
Finney is yearly an educational speaker for spirit coaches at the Arkansas High School Coaches Association clinic in association with the high school all-star week; educational speaker at several football coaches clinics over the last 10 years. She's been an educational speaker at Bryant Rotary Club.
In the last 15 years as an AT, Finney has served 20 State Championship teams and six State runner-up teams.
In 2009, she was the Dr. Doug Parker Award co-recipient for assisting in raising over $20,000 in funds for the AATA legislative endeavors in 2008. The AATA Dr. Doug Parker Recognition Award "may be, but does not have to be, given annually to an individual who has served the Association in a dedicated professional manner. This service may be on a volunteer, behind the scene basis, through appointed, elected duties or gone above and beyond the call of duty as well as enhancing athletic training in the state of Arkansas. Their time and talents have been for the betterment of the Association and the advancement of the profession."